In contrast to the gains from earlier this week, the markets opened to the downside and have not been able to turn around so far. The major culprit of the decline today was the World Bank cutting its forecast for global growth, leaving many investors concerned about current equity valuations. This negative news out of the World Bank brings up concerns about market growth potential; why should investors buy into a market currently at all-time highs when it now has lower-than-expected growth prospects? The World Bank decided to cut its global growth forecast due to weaker outlooks for the U.S., Russia and China, while encouraging emerging markets continue to strengthen their economies before the US Federal Reserve decides to raise interest rates. Economists at the World Bank now predict the world economy will grow by 2.8% this year, which is far below the 3.2% forecast back in January. Additionally, the US forecast was reduced to 2.1% from 2.8% back in January. However, these setbacks might just be temporary since the World Bank's forecast for 2015 remained unchanged at 3.4% growth.
Despite the dip in the market thanks to the World Bank's revisions, the weekly MBA Mortgage Index showed some incredibly positive results over the previous week. The composite index showed an increase in home-buying activity by 10.3% over the previous week, while the previous period showed a decline of 3.1%. The refinancing portion of the index showed a jump of 11% for the week compared to a 3.0% decline in the previous period. Additionally, the average 30-year rate for conforming loan balances ($417,500 or higher) increased from recent lows, and jumped 8 basis points for the week to 4.34%. It looks like homebuyers have definitely become more active in their buying activity after the long Memorial Day weekend.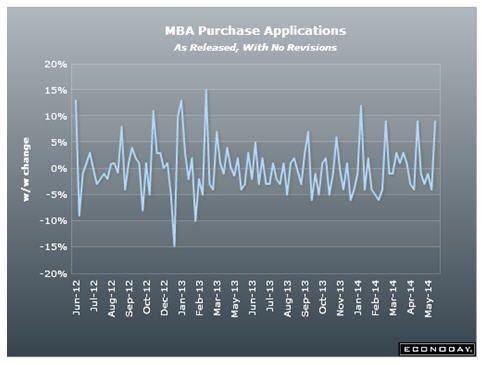 The market's general performance can definitely improve going into the close, but we love the action in the high-flying components of the NASDAQ lately, and we believe this momentum will continue for some time. Today the NASDAQ is currently outperforming the other indices, despite trading in the red.