There's no freefall in the equity markets, but they remain spooked from the beginning of the session. Crude oil prices have jumped over $105 per barrel today, after Islamist militants seized two cities in Iraq and sent Iraqi forces into retreat. The US withdrew troops from these areas three years ago, but it looks like a sectarian civil war has come back to the region, which is currently OPEC's second biggest oil producer. It appears that there are some difficult times ahead for Iraq and a rocky start to the summer for most Americans at the gas pumps. Worried investors have also been flocking to gold which jumped about $11 in this session to around $1,272 per ounce. Below is a very helpful visualization of the oil fields and pipelines in Iraq, as well as where there continues to be cultural clashes.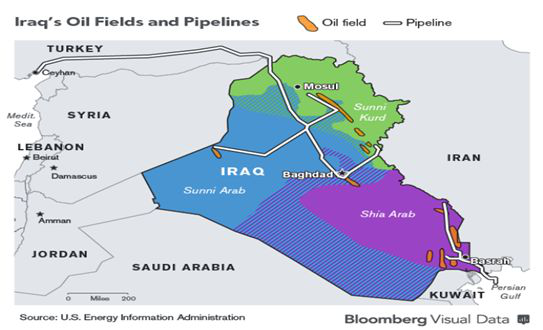 Back in the homeland, the market was already iffy thanks to some mixed economic data released earlier this morning. Overall retail sales for the month of May increased 0.3% and excluding autos, they were up 0.1%. Both of those results were below consensus estimates, which forecasted increases of 0.7% and 0.4%, respectively. This is quite disappointing news, but this should be offset by the fact that there were large upward revisions for April. Total retail sales in April were revised up to 0.5% from 0.1%, and excluding autos, sales were revised up to 0.4% from 0.0%.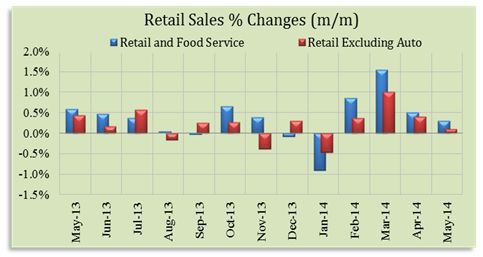 Separately, business inventories increased by 0.6% in April; is this higher than the consensus estimate of a 0.4% increase and above the unrevised 0.4% increase for March. Ultimately, judging by the level of retail sales in May, these inventory levels in retail and businesses should remain high for another month or so.