Watch Charles' New Show: Making Money with Charles Payne on Fox Business, 6PM
The positive economic data released this morning is actually keeping the major equity indices subdued in the red this afternoon. The initial and continuing jobless claims were lower than both the consensus estimates and the previous reading, initially giving the market a lift this morning. Today's initial jobless claims showed a 6,000 dip last week to 312,000. The 4-week average, at 311,750, is now down 11,000 from the middle of May. It is worth noting that that mid-month readings tend to compare well with the government's monthly employment report. Continuing claims for the week of June 7th fell by 54,000 to a new recovery low of 2.561 million. The best part is that there are no seasonal or holiday factors influencing the data this week, so improvement is far more believable as the reason for decreasing claims.
Additionally, the June Philly Fed Index came in much higher than economists' expectations and the previous month's reading. The index reading came in at 17.9 for June compared with 15.4 in May and the 13.4 consensus estimate. This translated to a slightly stronger shipments index, up to 15.5 from 14.2 in May. Probably, one of the the most important factors in the index was that the unfilled order levels in June jumped to 11.5 from -2.5 in May. If new orders should decline over the summer, this gain in unfilled orders ought to keep upward pressure on shipments. Back to jobs- the employment index portion of the Philly Fed increased to 11.9 in June from 7.8 in May, indicating that employment is improving quite nicely in this Fed district. Signs are looking quite good for June employment so far.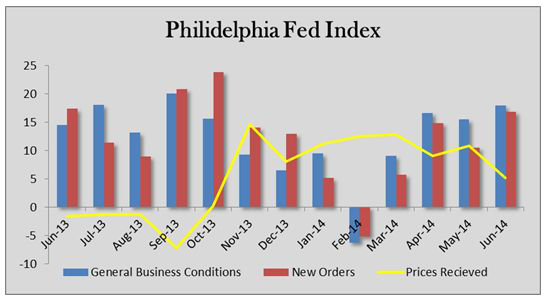 So, it looks like jobs have prevented the stock market from dipping further during today's session, however some big catalyst is needed, this afternoon, in order to move the market back up to new all-time highs.