Watch Charles' New Show: Making Money with Charles Payne on Fox Business, 6PM
All good things must come to an end; that said it doesn't appear that the Down Jones Industrial Average is going to make it to a 7th consecutive session of gains. However, all the indices are hovering just below the surface at the moment, and particularly, the NASDAQ has been edging higher as the day goes on. We shall see if the market holds up going into the close, but in the meantime there's some substantially good news keeping the market afloat.
Firstly, there was an awesome pop in the number of existing home sales, showing that there are homebuyers out there, but they seem to prefer the charm of older houses rather than the modern trends in the new builds. In May, existing home sales increased 4.9% to 4.89 million seasonally adjusted annual rate (SAAR) which was higher than consensus' estimate of 4.8 million SAAR and the revised April reading of 4.66 million SAAR (revised up from 4.65 million). From an economic standpoint, the biggest concern is that first-timer homebuyers are still waiting on the sidelines for economic conditions to improve. Purchases by first-time home buyers accounted for only 27% of all sales in May, which was down from 29% in April. When economic conditions are normal, first-timer buyers typically account for a third of all home purchases. While mortgage rates were low in both May and early June, economists expect rates to increase throughout the rest of the year. While not perfect, this uptick is setting up a firm foundation for growth.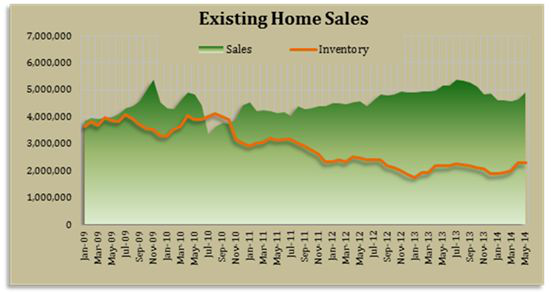 Additionally, this morning, Markit provided a flash (or preliminary) PMI reading for the month of June, which points to stronger production activity. The June flash reading came in at 57.5, which was higher than the final reading in May at 56.4 and the flash reading in May at 56.2. The most encouraging part of this report was that the pop in the index was led by new orders - the new orders reading came in at 61.7, which is a 2.9-point acceleration from the final reading in May. Backlog orders increased to 56.9, which is particularly strong for this reading. These order readings point in the months ahead to a rising rate of output which is already very strong at 61.0. New export orders continue to lag in the flash report, showing barely any growth at 50.9. If you exclude exports, the new order numbers offer a very positive signal for the factory sector which is providing increasing leadership for the national economy, and is the key to our thesis that industrial activity will continue to pop this year. The flash reading so far, would be the highest PMI reading in the last year according to the chart below.