Watch Charles' New Show: Making Money with Charles Payne on Fox Business, 6PM
Although we're presently down from intraday highs, the rally is continuing today. Not only did the S&P 500 manage to pop once again to a new all-time high, the tech-heavy NASDAQ manged to reach a new 52-week high, as well. While this is not an all-time high for the NASDAQ (that occurred back on March 10, 2000 at an intra-day level of 5,132.52) it is still encouraging to see the index approach the 4,400-level. Today's sesson was driven by some rather encouraging economic data mid-morning after both the Dow Jones and the S&P 500 opened in the red.
Yesterday's existing home sales report was encouraging, but the new home sales report today literally surged and gave the market a whole new wave of optimism. New home sales increased by 18.6% to a 504 million annual rate - this was far beyond analysts expectations. The gain was primarily led by the two biggest regions for new home sales: the South (+14.2%) and the West (+34.0%). Probably more encouraging was that the surge in sales did not come at the expense of housing prices, which rose 4.6% to a median $282,000. A negative point, however, is a lack of available homes: new homes on the market were unchanged in May at 189,000, but the surge in sales lowered supply relative to sales, to 4.5 months vs 5.3 months in April. Ultimately, this is very encouraging and it's clear that the housing market has moved past the seasonal impacts.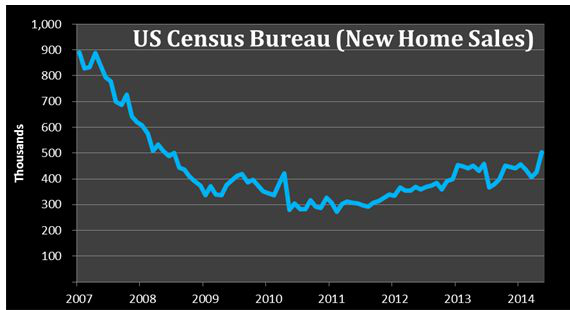 Addtionally, the Conference Board's consumer confidence index is also moving steadily to new recovery highs, to 85.2 in June vs a revised 82.2 in May. This is the fourth straight month that the index is over the 80-level (being above the 80-level indicates that optimists far outweigh pessimists). June's gain is centered in the "present situation" component, which is at a recovery best of 85.1 - this is a 4.8 point gain from May. This June-to-May comparison points to strength for the run of June's consumer-sector data, which ought to be manifested in retail earning later in July and August. In the chart below, it is interesting to see how confidence was higher than the market back in 2000 when today, the market is rising higher, but confidence is still on a bit of a lag.