Watch Charles' New Show: Making Money with Charles Payne on Fox Business, 6PM
The NASDAQ is absolutely on fire today. It's majorly outperforming the Dow and the S&P 500 while trading within 10 points of a new 52-week high. The technology, utilities, and services groups are leading the way in terms of performance across all indexes, which likely explain the pop in the NASDAQ. Michaels Companies (NASDAQ:MIK) also launched its IPO this morning, with an announced listing price of $17 per share. So far, the stock is about 1.1% higher from the open. More importantly, the University of Michigan Consumer Sentiment Index released its final sentiment reading for the month of June, and the result was definitely an improvement over last month.
Sentiment has edged higher the last two weeks, coming in at a final reading of 82.5 for June, which was slightly higher than the mid-month reading of 81.2, as well as the final May reading of 81.9. Within the index, current conditions component rose to 96.6 which was much better than the final May reading of 94.5. This 2.1-point gain in conditions directly points to monthly strength for the consumer sector during the month. However, the consumer expectations component (a.k.a. how consumers feel looking forward) remained unchanged, at 73.5. According to the index reading going back to 2007, the Michigan Sentiment Index is improving from the drop in 2011, and we are now approaching pre-recession levels.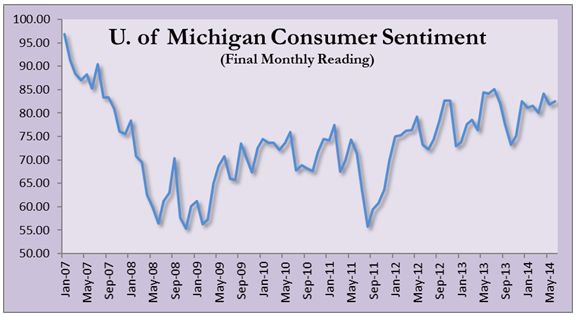 At present, expectations in the index show inflation is not under major pressure, which is actually a surprise to us, given last month's rise in the consumer price index (NYSEARCA:CPI). One-year expectations for inflation are now at 3.1%, which is down 0.2% from May, while 5-year expectations are at 2.9% -- a gain of 0.1%. Even though the report today points to an increase in strength among the American consumer, the Dow and the S&P 500 are not reflecting this attitude today. We shall see how they trade in the last couple hours of the session. Maybe the sun will actually come out before Friday ends!