Watch Charles' New Show: Making Money with Charles Payne on Fox Business, 6PM
After experiencing great gains on Thursday, the major equity indices opened lower and continued trending down during the morning session. The Russell 2000 holds at a loss of 1.4% as small businesses are taking a hit. With eight sectors in the red, the S&P 500 has traded down 0.5%, so far today. The only sectors in the S&P 500 trading higher were the defensive sectors- utilities and telecoms. The Dow Jones decreased 0.4%, but has remained above the 17000-level as can be observed on the chart below. The losses suffered in the indices were largely in part due to investors taking profits from the gains witnessed last week.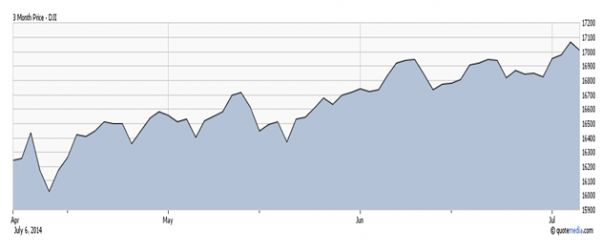 There was not much economic data out to move the markets today. America's self-reported spending fell to $91 in the month of June from its 6-year high of $98 in May according to the Gallup US Consumer Spending Measure. Though spending continues to surpass the averages of $60 to $70 experienced between the years 2009 to 2012, the $91 figure demonstrates a decrease in spending from the monthly average since the start of 2014. Tomorrow, we will have more economic data that would give a better reading of the first week of July and with the Goldman Store sales report, Redbook Same-stores report, Job Openings and Labor Turnover Survey (JOLTS), and the consumer credit report being released tomorrow. Tuesday also signifies the kickoff of earnings season, with Alcoa (NYSE:AA) leading the pack. The following weeks will prove to be very exciting.