Watch Charles' New Show: Making Money with Charles Payne on Fox Business, 6PM
After peaking last week, the market is experiencing a sizable pullback today with heavy selling in the momentum names, reminiscent of action witnessed earlier this year. We think the selling is overdone, but does point to anxiety mentioned in the morning report. Any market pullback is discouraging to individual investors, but since the economy is showing gradual improvement (based on many recent data releases), there should not be any more cause for concern long-term. The Dow hitting 17,000 on Thursday has brought about scrutiny and jitters. Despite the Dow's pullback from the 17,000-level, it is likely that the level will be tested again in the coming weeks - there are plenty of big-name companies reporting earnings in the coming week which will definitely move markets. The fact that large investors are moving into utilities, which remains the best performing sector this year, underscores some concerns. In the meantime, there are still economic reports causing the market to ride out the waves.
Early this morning, National Federation of Independent Business (NFIB) released its monthly survey of small business sentiment appropriately called the Small Business Optimism Index. After moving higher by more than 5 points over last three months, the index fell back 1.6 points in June to 95. The pullback is concentrated on those small business owners who "expect the economy to improve," which fell back a very sharp 10 points. Declines were also observed in those who expect their "sales to move higher" and those who say now is a "good time to expand." The gains among the various index components are isolated and moderate, but are centered in the key category of employment with more planning to hire and more reporting an increase in job openings.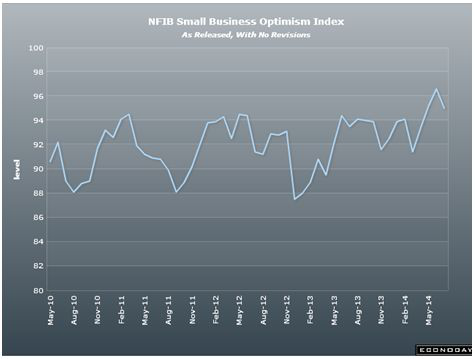 Continuing on the note of job openings, the US Labor Department released their monthly report of headline job openings and quits with the Job Openings and Labor Turnover Survey (JOLTS) which lags one month behind the Employment Situation Survey. Ultimately, employers posted the highest number of job openings in the last seven years, but hiring continues to lag. Nonfarm-advertised job openings increased to 4.635 million openings in May, which was the highest level since 2007, but the number of hires dipped from 4.8 million to 4.7 million. An encouraging number that was buried in the data was the number of individuals who quit their job for another opportunity. The number of quits rose to 2.5 million in May, and according to the chart below, has been steadily increasing since the recession. Quits are an important statistic as they are typically indicative of a robust labor market where workers feel confident enough to leave their current job and not worry about being unable to find another job.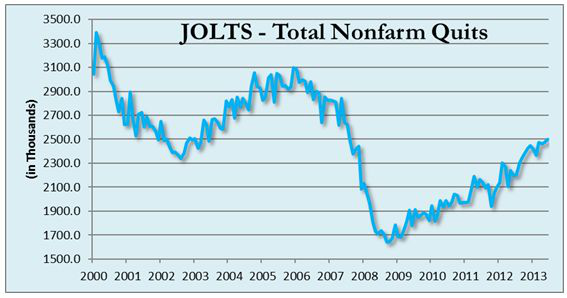 It's very likely that the market will close in the red today. From a macro point of view, the case for a higher market has gotten better in recent months... but we've seen this movie before. We think it's best to remain calm and be prepared to take advantage of the excessive selling as new investing opportunities.