The market was displaying remarkable resolve after opening lower in reaction to increased tensions between the United States and Russia. However, the rally was dashed around 11:30 this morning after it was reported that a Malaysian airliner crashed near the Russian-Ukrainian border. Making things even more intense was the immediate scuttlebutt that the crash was due to the plane being purposely shot down by a ground air missile. (We note that this occurred less than 24 hours after President Obama announced economic sanctions on Russia.) Considering the plane's altitude and initial reports on how it had fallen, military expertise may have been involved. Despite this market scare, other economic data released this morning is pointing to substantial improvement in jobs and manufacturing, allowing the market to remain stable. In fact, it is more impressive that the market is continuing to hold up now, than its earlier reversal.
The weekly jobless claims came in better than expected which gave the markets a decent boost in the morning session. Initial claims fell by 3,000 in the week of July 12th to 302,000. The initial claims' 4-week average is also down 3,000 to 309,000 which is a new recovery low. The July 12th week is the sample week for the monthly employment report and a comparison with the sample week in June also showed improvement with the 4-week average down 3,250. Reported with a one-week lag, continuing claims point to a similar recovery in jobs. Continuing claims data for the week of July 5th fell by 79,000 to a recovery low of 2.507 million. The unemployment rate for insured workers is also down to a recovery low of 1.9%. Ultimately, the Labor Department reported no special factors in the report, but most of the noise can be tied to the activity around the Independence Day holiday. This report is solid and it ought to raise expectations for another strong employment report for July, which should also cause another drop in the unemployment rate.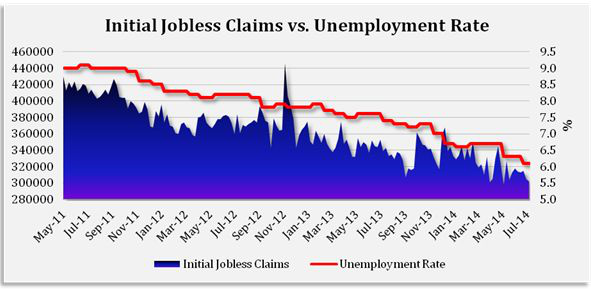 In addition to jobs, the manufacturing activity in the Philadelphia Fed District showed sizable improvement over the last month. The Philly Fed Index jumped 6.1 points to 23.9; the highest reading since March 2011. New orders, as they were in Tuesday's Empire State report, are a standout highlight since they jumped to 34.2. Shipments in the region are also at 34.2 and unfilled orders are piling up at 9.1 in June. Employment growth was less spectacular, but still rather solid, at 12.2 versus 11.9 in June. We note that though the Philly and Empire State reports cover only the Mid-Atlantic and New York regions, the methodologies are based on respondents' often subjective assessments of monthly changes. Nevertheless, the Fed District readings this week are very likely to raise expectations for July's full run of hard factory data including industrial production and durable goods orders.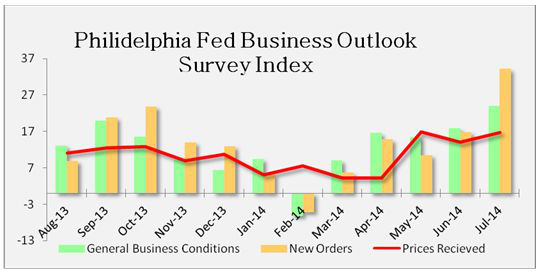 Activity in Philly was pre-indicated in the Fed Beige Book data released yesterday afternoon as well. All twelve of the Federal Reserve Districts indicated that economic activity has expanded since last month. The pace of economic growth was characterized as moderate in New York, Chicago, Minneapolis, Dallas, and San Francisco, while the remaining Districts reported modest expansion. Compared to the previous reporting period, Boston and Richmond noted a slightly slower pace of growth, although most Districts were optimistic about the outlook for growth. The following is a table with abridged notes from the individual districts.
Federal Reserve Beige Book - July 2014
Atlanta
Boston
Chicago
Cleveland
Economic activity expanded modestly. Business outlook positive in near-term. Auto sales solid, retail sales higher. Tourism robust activity. Home sales mixed; building activity positive. Manufacturing showing growth in new orders and production. Bankers cite loan growth. Payroll increasing at modest pace though wages stable overall.
Slow economic growth overall, variation across sectors. Retail sector reports mixed results. Consulting strong, real estate mixed. Output prices stable in manufacturing. Most contracts cautiously optimistic in near-term. Biotech and healthcare sectors show favorable signs.
Economic growth moderate. Contacts maintained optimistic outlook for the rest of the year. Consumer and business spending higher. Manufacturing, production, real estate activity moderate. Credit improving. Cost pressures increased, but remain modest. Commodity prices down with hog prices higher.
Economic growth moderate. New orders and production grew slowly. Demand for construction slightly higher in Q2. Auto sales up modestly y/y. Coal and shale plays little changed. Retail sales higher y/y. Demand for consumer and business credit higher. Payrolls mildly increasing. Input and finished goods stable ex metals, ag, and coal.
New York
Richmond
Kansas City
St. Louis
Economic growth moderate. Prices of finished goods & services stable, upward pressure on input prices. Manufacturers note acceleration in business activity. Labor improving; manufacturing hiring more, service hiring moderate. Housing market leveling-off. Retail and auto sales down slightly in June. Little change in credit.
Moderate economic growth with improving manufacturing conditions. Shipments slower, new orders higher. Retail sales slower. Consumer borrowing varied but commercial lending better. Nat gas and coal production leveled-off. Employment increased modestly with limited wage pressure. Prices slightly higher across sectors.
Economic growth expanded modestly and contacts anticipated stronger growth ahead. Consumer spending in retail, autos, and restaurants higher. Tourism also higher. Manufacturing expanding. Residential and commercial real estate stronger. Construction activity expects gains. Crops down, energy up. Prices slightly higher.
Economic growth moderate. Retail activity expanded at modest pace. Planned activity in manufacturing and services has been positive on net. Residential market conditions deteriorating, but commercial real estate market improved. Lending activity at small banks increased slightly. Wage and employment levels grew modestly. Prices have increased slightly.
Dallas
Minneapolis
Philadelphia
San Francisco
Economic activity moderate. Manufacturing increasing, but a few reports of weaker demand. Retail and auto sales up. Demand for nonfinancial services improved, but loan demand slower. Single-family homes down; apartment, office, industrial leasing strong. Oilfield demand robust. Ag conditions improving. Outlook optimistic.
Economic growth moderate. Increased activity in consumer spending, tourism, commercial construction and real estate, professional services, manufacturing, energy, and mining. Resident real estate and agriculture mixed. Decrease in residential construction. Hiring outpaced layoffs. Wages slightly higher, prices unchanged.
Business activity moderate, few changes. Auto sales strong. Service sector moderate, high demand for transportation services. Manufacturers report ongoing modest growth. Overall real estate show slight growth; builders and brokers slightly increased activity. About 1/3 of firms plan to increase employment and raise cap ex in next 6 months.
Moderate economic growth. Price inflation modest, wage pressures well-contained. Retail sales unchanged. Demand for business and consumer services up. Manufacturing improved. Drought conditions led to reduced crop production. Activity in real estate markets advanced though residential slowed. Loan demand increased overall.