7/18/2014 9:44:21 AM Eastern Time
Question of the Day
I'm going to join Washington DC's favorite pastime and play the Blame Game. Beyond the person(s) that pulled the trigger on that deadly BUK missile who is to blame for the tragedy of MH17?
1. Russian Insurgents
2. Vladimir Putin
3. US Foreign Policy
4. Malaysia Airlines
Click here to post your answer and let Charles know what you think.
Watch my show: Making Money With Charles Payne Fox Business 6PM
Just as the market rally was ready to prove it was unstoppable, someone in Ukraine used a surface-to-air missile to bring down a civilian aircraft. This horrific incident occurred just hours after President Obama ratcheted up economic sanctions on Russia for its involvement in civil strife in Ukraine.
The shoot-down of the plane wobbled the stock market, but one has to wonder why? Is there a sense of further escalation, is there a sense of hopelessness with respect to America's ability to influence and sway the world.
Could that dip in the market, which gained downside momentum into the close as Israel announced intentions to send ground troops into Gaza, reflect anxiety of the inability of America to keep the world safe or safer?
"The bullying of small countries by big ones, the trampling of justice and decency in the pursuit of national aggrandizement, and reckless indifference to human life, should have no place in our world."
Tony Abbott
Prime Minister
Australia
While President Obama played it cool with an obligatory sound bite, 'May Be A Terrible Tragedy,' despite the potential loss of 23 Americans, and yet another bald face act of aggression against the sensibilities of mankind, Australia Prime Minister Tony Abbot reacted like a leader in pain for his citizens (at least 27 Australians were on board) and the world.
While there is no doubt that Abbott's comments were aimed at Vladimir Putin, they could be applied to many nations in the world that are only becoming more emboldened.
Moreover, I think Abbott's comments need to be heard by the west while they're still positioned to turn the tide because global bullies are awfully popular at home. Just as President Obama's job approval plummets, Vladimir Putin's is soaring in Russia.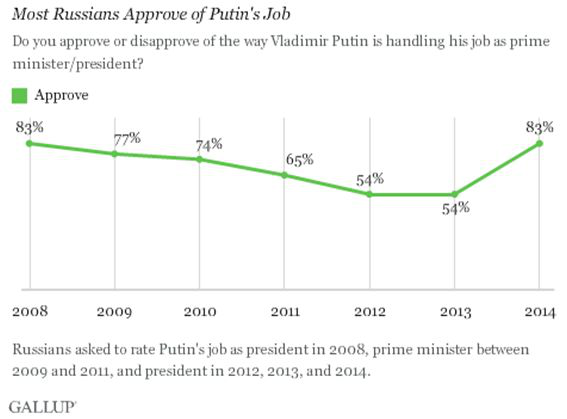 Don't think the leaders in China aren't watching this all play out, as they plot to secure all the oil in the South China Sea. A recent Pew poll of 44 nations asked if they were "concerned" about China's move to own disputed tiny islands would "lead to conflict." Threatened, the nations overwhelimngly replied: "Yes".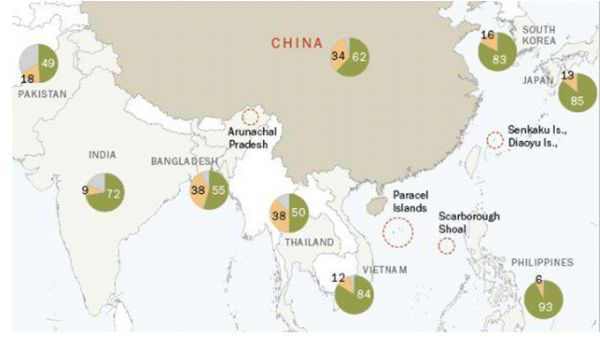 Increasingly, it feels like the world is becoming a powderkeg, and increasingly it feels like the last-line-of-defense that has been the role of America is fading. Maybe yesterday's one-two geopolitical punch wasn't the black swan for the stock market, but make no mistake, the clouds over the world have gotten darker. The great news is that fundraising does not miss a beat, campaigning does not miss a beat, and demonizing politcal opponests does not miss a beat.
Of course, Vladimir Putin does not miss a beat, either.
Today's Session
The market's resove is on display this morning, but there isn't a lot of conviction. On the earnings front, corporate America continues to knock the cover off the ball, although real organic growth is worrisome and bottom lines are boldered by buybacks.

Mixed Messages
> General Electric (NYSE:GE):
* All six business segments grew backlog, but there are problem areas. Service saw five of six segment increase, but operating margin of 5% is lower than 8% margins for equipment which experience declining growth in all segments and 6% growth markets margins.
> Johnson Controls (NYSE:JCI):
* Building business was down and automotive higher, but largely on surging demand from China.
> Kansas City Southern (NYSE:KSU):
* A great quarter (in model portfolio) as management observed, "During the second quarter of 2014, KSU experienced strong revenue growth from the shipment of grain and automotive. KSU's core carload franchise continues to show strength in line with the general economy."