Day two of the busiest week in earnings season has proven to be a positive session, so far. Intel (NASDAQ:INTC), Home Depot (NYSE:HD) and Visa (NYSE:V) are all giving the Dow Jones Industrial Average a nice boost today, helping the index climb even closer to another all-time high. Lighter macroeconomic concerns during the session have also enabled the S&P 500 to reach another all-time intraday high. While earnings and geopolitical calmness are boosting the market today, there is also a slew of economic data helping to send the market higher.
Firstly, the Consumer Price Index (NYSEARCA:CPI) showed that inflation pressures have held steady at a noticeable level in June, with a headline reading of +0.3% over the month of May. Though the CPI declined from May, the year-over-year change remained just above a key level at 2.1%. However, excluding the highly-sensitive components (i.e. food and energy) the core reading increased only +0.1% in June, which was less than the +0.3% pop in May. Here as well, the core year-over-year reading was also near the 2%-level, coming in at +1.9%. Gasoline, which is notorious for jumping in the summer driving season, was the center of pressure in the report, jumping 3.3% in June, although the year-on-year rate actually slipped to +2.0%. Food prices, which we noted earlier had been on the rise for some time, edged only 0.1% higher as fruit, dairy and cereal prices contracted. This ended up driving the year-on-year food rate to +2.3%. Elsewhere, drugs and tobacco showed sharp price gains, as did apparel with an unusually strong gain of +0.5% in the month. Otherwise, all other readings show no more than incremental pricing pressure. Overall, this report definitely has a little bit of everything for the voting members of the Federal Reserve, but the year-over-year rates may have the hawks warning of inflation pops sooner than expected.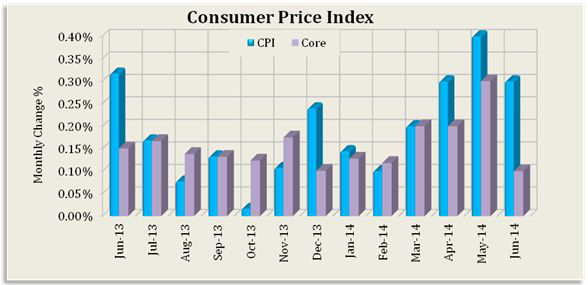 Later in the morning session, existing home sales showed some positive activity, picking up sharply in the second quarter following a lull in the first quarter. Sales of existing homes increased 2.6% in June to a higher-than-expected annual rate of 5.04 million home. This gain comes against difficult comparisons, an upwardly revised 5.4% jump in May, and a 1.5% gain in April. We note that existing home sales had actually contracted in the first three months of 2014. Also, the gain in June is very well balanced with single-family home sales up 2.5% to a 4.43 million rate and with condo sales up 3.4% to a 610,000 rate. All US regions showed gains in sales for June; however the Midwest showed a notable increase of 6.2% over the previous month. The current rise in both prices and sales is drawing sellers into the market where supply on the market is at 2.30 million versus 2.25 million in May and 2.16 million in June of last year. Sales of new homes also surged in May and April, after a very weak winter quarter; gains that contrast sharply with the troubling and hopefully temporary weakness apparent in housing starts and permits. New homes sales will be released Thursday morning, but this current data is causing a pop in the homebuilder sector, as well as housing-related stocks.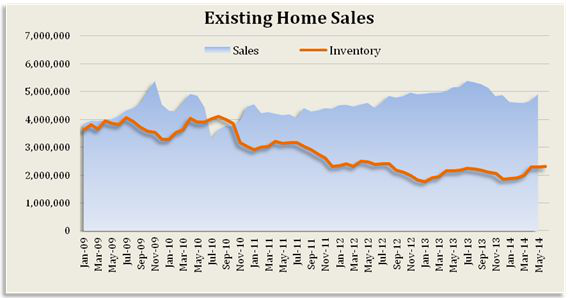 While not a market mover, the ICSC-Goldman same store sales index was marginally disappointing. The sales index, which had been on a very sharp climb to its best readings of the recovery, fell in the week of July 19th, down 0.4% compared to the prior week, and on a +2.8% on a year-over-year basis - this is the slowest growth rate since late May. The report cites unseasonably cool weather during the week, which curbed demand for summer-clearance items at some shops. Nevertheless, we believe the rates are still strong and the sales report gives us some optimism for the all-important back-to-school shopping season.