A whole slew of economic data accompanied the Bureau of Labor Statistic's monthly jobs report this morning. The various data may have contributed to the market staying afloat in the early hours. By the afternoon, the market was back to session lows, struggling to digest data and macroeconomic concerns. Below are some highlights from the massive load of economic releases from this morning…
The Employment Situation
Payroll growth in July was relatively soft, but still positive overall. However, due to this near term weakness, the Fed will most definitely not raise interest rates sooner. Total nonfarm payroll jobs rose by 209,000 in July after a revised 298,000 gain in June. Economists had expected that 233,000 jobs would be added in July. The unemployment rate took a slight tick upward to 6.2% from 6.1% in the previous month, although economists expected the rate to remain unchanged. Private jobs advanced 198,000 after a far more impressive 270,000 new jobs from the month prior. However, the goods-producing sector that was relatively healthy, gaining 58,000 in July, following a 38,000 rise in June. Manufacturing jobs posted a 28,000 increase, following a 23,000 gain the month before, construction jobs advanced 22,000 after a 10,000 rise in June - these are relatively encouraging after the opposite message was given at ADP earlier this week. The report itself is a far more complex beast, but all-in-all, today's report shows that job growth is still soft and will not accelerate the Fed's decision to raise interest rates.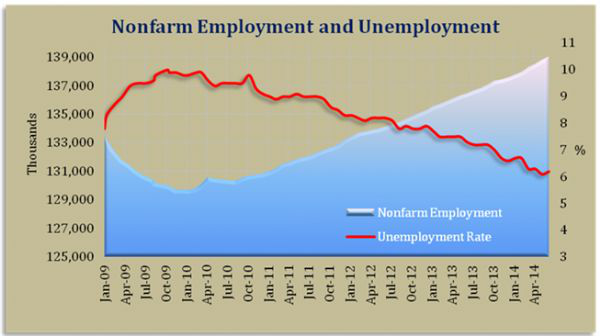 Personal Income, Spending and Savings
Lagging by one month, the June personal income report was quite positive relative to the soft employment report in July. Income and spending were up while inflation numbers were restrained at the core level. Personal income increased 0.4% in June, which matched the pace the month before and met expectations. The important wages and salaries component increased 0.4% in the last few months which suggests that there should be ample fuel for consumer spending in the near term. Personal consumption improved by 0.4% in June after rising 0.3% the month before, and was in-line with analysts' expectations. In addition, PCE inflation eased to a monthly 0.2% in June from 0.3% in May and Core PCE inflation softened to a 0.1% rise after a 0.2% gain in May. These figures give the Fed some leeway to keep fiscal policy lax since the inflation level is still below its goal of 2.0%. Lastly, personal savings remained unchanged from the pace in May, coming in at 5.3%.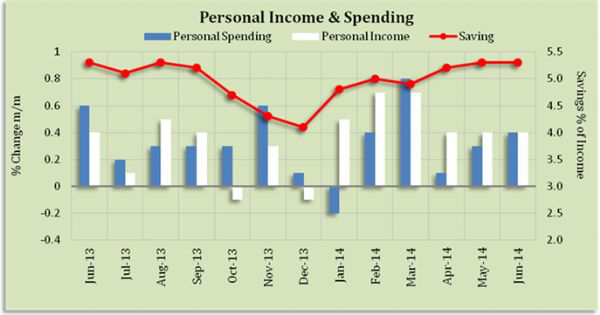 Manufacturing ISM
ISM's manufacturing reported solid business acceleration in July with the composite index rising to 57.1 in July, which is the best reading since April 2011. More importantly, is the extremely sharp gain in new orders which increased to 63.4 which was way higher than the June reading of 58.9. So far, this is the best reading for new orders this year. Another huge positive, and one that contrasts with Markit's PMI manufacturing report also released today, is that there was a sizable jump in employment growth. The employment component of ISM came in at 58.2, which is a 5.4 point increase over June, and this marks the strongest rate of monthly employment for ISM since June 2011.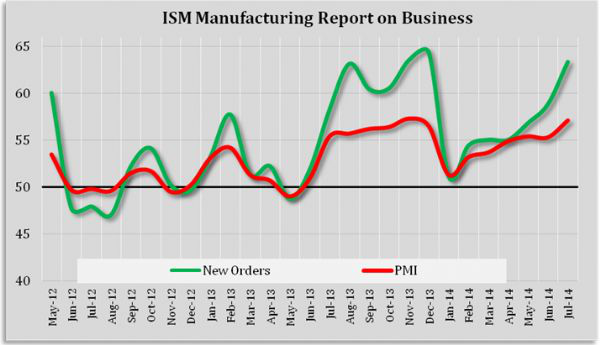 Construction Spending
Despite the positive increase in job additions in construction and the positive ISM numbers, construction spending unexpectedly declined in June. Construction outlays declined 1.8% after increasing 0.8% in May (revised up from +0.1%). The latest number came in well below market expectations which called for an increase of 0.5%.
Consumer Sentiment
Consumer sentiment was weak sauce in July, finishing the month at 81.8 following a mid-month reading of 81.3 and a final reading of 82.5 in June. However, we did see strength in the current conditions component, which came in at 97.4 which was slightly better than the mid-month reading of 97.1 and the final reading of 96.6 in June. Overall, this points to a slight acceleration in consumer activity during the month of July.
Note: We are holding off on an afternoon Hotline idea.