The new wave of economic data this morning did little to help the major equity indices during today's session. Since the start of the trading day, all of the major equity indices took a deeper nosedive, leading many to expect more of the same for the month of August, unless there is a drastic positive change. However, the economic readings from this morning point to some degree of improvement.
Firstly, factory orders in the US surged higher in June following a relatively weak May with new orders up by 1.1%, which was much better than expected following a downwardly revised 0.6% in May. The durable goods component was revised sharply higher to a 1.7% jump, up from an initial reading of +0.7%. The component for non-durable goods also showed strength, up a healthy 0.6% following a 0.2% decline in May. The most notable area of strength in the report were core capital goods, up a big 3.3% for nondefense capital goods excluding aircraft, which points to solid business investment and reflects solid business confidence in the long term outlook. New orders showed wide gains for machinery (again tied to capital goods), aircraft, computers, and electrical equipment, but orders for motor vehicles were flat in the month. Additionally, the gain for non-durable goods is tied to strength for petroleum and coal demand. Month-to-month readings of factory orders are a bit bumpy, as with most industrials, but this is a very balanced and very solid report that confirms manufacturing continues to be one of the leading sectors.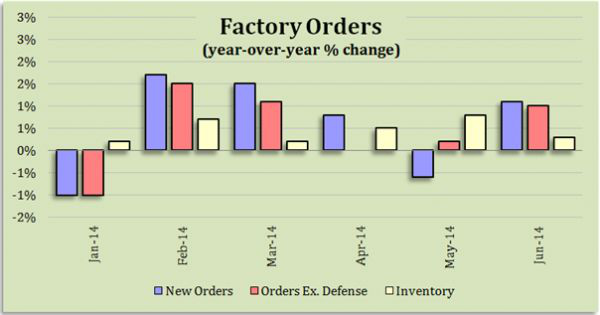 Next, the ISM's non-manufacturing index reported the strongest rates of monthly growth of the whole recovery, and, most importantly, was led by strength in construction within 16 of 18 industries. The July composite index is at a recovery best of 58.7, which is up a respectable 2.7 points from June, with new orders also at a recovery best of 64.9. This 3.7-point increase is indicative of rising activity ahead. Activity was already very strong with the business activity index, near a recovery best of 62.4 for a 4.9 point surge. Employment is also picking up steam, gaining 1.6 points to 56.0 which is very strong. However, an interesting sign is that inventory growth is slowing, which points to the need for restocking, while delivery times are slowing, albeit relatively small. Below are the changes since the beginning of 2012.