Today, the struggle continues as the major equity indices are trying to maintain levels in the green, albeit the performance is far from robust. Equities continued to rise despite the fact that Russian President Vladimir Putin signed a decree banning or limiting the imports of agricultural products from countries that have issued sanctions against Russia. Granted, this is simply one sector, but there is no telling how far they will take this action. Earnings season is winding down further this week, so there were only two major reports that point to further economy optimism in America released today.
Probably the most impressive release today was that in July the Gallup's U.S. Job Creation Index which climbed to its highest level in more than six years. The index came in at a positive reading of 28, slightly higher than the 27 reading in July, but nicely up from a positive 21 reading in July 2013. The index has been trending higher for most of the year. Out of all the workers surveyed, 41% of the workers reported that their employer is hiring and expanding the size of its workforce, while only 13% said that their employer is cutting employees and shrinking their workforce - this resulted in a net hiring score of 28. Net hiring stood at 30 in July among non-government workers, which represents 82% of all the workers that Gallup polled in July; and for government workers (16% of the total polled workers), net hiring stood at 17. Overall, this punctuates the progress in job creation so far this year; the current level only slightly exceeds the 26 reading in early 2008 (pre-recession). There's still significant room for improvement, but at the very least we are heading in the right direction.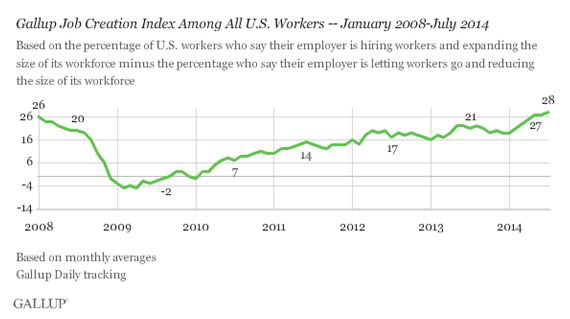 Additionally, the international trade deficit for the month of June narrowed again after an unexpectedly large narrowing the month before. The US trade gap shrank to $41.5 billion from $44.7 billion in May. Exports increased by 0.1% in the month after jumping by a whopping 1.1% in May, and imports declined by 1.2% in June after a decline of 0.1% in May. The overall improvement in the deficit was due to the goods-excluding-petroleum gap, which decreased to $44.8 billion from $47.1 billion in the previous month. In addition, the petroleum balance contracted to $14.7 billion in June from $15.2 billion in May, while the services balance remained unchanged at $18.7 billion. Overall, we note that this improvement in June implies that they should be a boost in second quarter GDP growth; however the details of the report suggest lack of confidence by businesses in upcoming consumer demand and business investment.