After the grand earnings finale brought in a slew of positive results, stocks appeared to be entering a rally early in the session. However, the rally was short-lived as headlines from NATO's commander stated that Russia has now massed large forces on the border of Ukraine, which should cause Russia to risk even further isolation from the rest of the world. The markets appear to have come to expect major volatility thanks to recent geopolitical events, but fundamentals remain sound for many regions in the world. However, Europe's largest economy is having a pretty rough week.
Germany is among the world's most prominent industrial powerhouses, but lately that engine has been running out of steam. The industrial production measurement denotes the output of businesses integrated in industrial sector of the economy such as manufacturing, mining, and utilities. In June, industrial production in Germany fell by 0.5% year-over-year, coming up majorly short of economists' expectation of a 0.3% gain. This was the first year-over-year decline for industrial production since July 2013. However, on a month-over-month basis, production increased by 0.3% in June. Industrial Production in Germany averaged 1.58% from 1979 until 2014, reaching an all-time high of 15.0% in February 2011 and a record low of -22.0% in April 2009. The chart below shows the rise and descent of year-over-year production over the last year, and shows that the monthly changes have hovered below the surface for some time as well.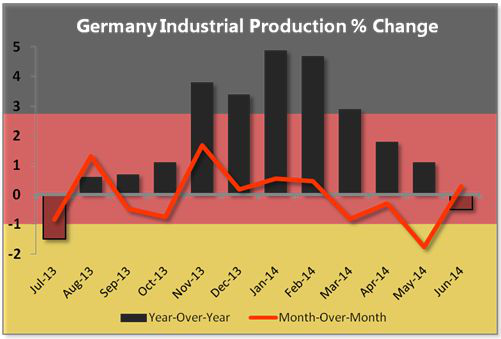 In addition, factory orders in Germany were horrible in the month of June: orders declined 3.2% month-over-month in June while economists were looking for a 0.9% gain. This decline was among the fastest decelerations since September 2011, and the annual growth rate for orders declined to -4.3%. While domestic orders were unchanged in the country, new orders from the Euro Area fell a whopping -10.4%. While other German auto brands showed improvement in sales last month, the largest brand, Volkswagen, noted that sales declined 14.6% over last year. The slowdown in sales over the last couple months could also be indicative of an easing in inventory replenishment - pointing to some rocky next few months of industrial activity.
However, it should be noted that Germany has recovered from similar hiccups in 2003 and 2004, and only an average rate below 0% would be cause for major concern.