While the trading day started on a good note, by mid-day the major equity indices all declined by roughly 0.3%. Once again, the culprit was more developments in Ukraine and Russia. This morning, it was reported that Russia sent a 280 truck convoy to Ukraine with humanitarian aid. However, Ukraine plans to block the aid calling it a disguised attempt on Russia's part to invade the country. While the uncertainty about Russia's intentions is clouding the markets, most economists aren't expecting major disruptions today. Earnings were relatively light this morning as well, although a few larger bellwether names will release earnings tomorrow, including Macy's (NYSE:M) and Deere (NYSE:DE). Although its impact is only lightly felt today, the economic data released this morning points to more improvement in businesses and jobs.
The Small Business Optimism Index, compiled by the National Federation of Independent Business (NFIB), rose 0.7 points to a reading of 95.7 in July. Across the 10 business index components, there was little change other than outlook for expansion and business conditions which accounted for the overall 0.7 point gain. Although outlook, expansion and conditions improved, they still remain at historic lows. Clearly, this gain would not be considered indicative of a 4% increase in US GDP during the month. Business owners increased employment by an average of 0.01 workers per firm in July (which is seasonally adjusted) - this marks the tenth positive month in a row for employment and the longest running string of gains since 2006. On a seasonally adjusted basis, 53% of business owners hired (or tried to hire) in the last 3 months, and 42% (81% of those hiring or trying to hire) reported few or no qualified applicants for their open positions. From a historical perspective, only job creation plans and job openings have reached growth levels: the actual reported job creation, though positive, is not strong at this time. As was supported by other data released, capital spending and inventory investments remain weak across most industries. All of this points to Q3-2014 GDP estimates being roughly status quo.
Additionally, the Labor Department released its Job Openings and Labor Turnover Survey - or "JOLTS" - which showed that there were 4.671 million job openings on the last business day of June 2014. This is slightly higher than the 4.577 million openings at the end of May. The hires rate (3.5%) was relatively the same and the separations rate (3.3%) was also unchanged for the month. Additionally, the "quits rate" (1.8%) and the layoffs and discharges rate (1.2%) were unchanged. In a healthy economy, the openings and quits rate are roughly the same. In terms of new hires, there were 4.830 million in June which was only marginally better than the 4.738 million from May. The number of hires was little changed for total private, government, and all industries and regions of the US. All in all, the increase in the hires rate suggest that there is improvement in the labor market, and although these numbers are far from robust, they may play a small role in the Fed's changing timeline for rate increases.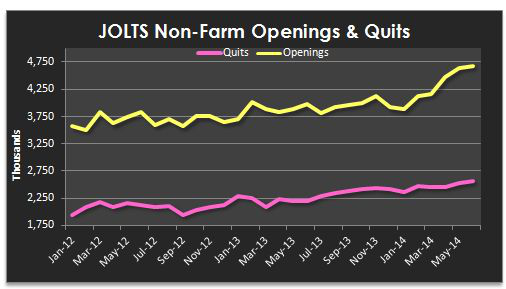 Another big potential market-mover will be the Treasury's release of the monthly budget around 3:00PM this afternoon. Therefore, volatility might pose a problem later in the session.