In the absence of worrisome geopolitical news, the major equity indices are enjoying a much needed rally. Most of global markets enjoyed a rally today thanks to mixed economic news; however, Europe continues to be a huge mess economically. The Eurozone's new June industrial output report was just the latest in a string of disappointing economic reports coming out of the region. Total factory output fell below 0.3% for the month of June after falling 1.1% in May. Following earnings this morning, Deere (NYSE:DE) and Macy's (NYSE:M) both saw shares decline after the companies gave less-than-optimistic outlooks for the remainder of 2014. Two major economic releases provided some mixed messages for the market as well.
Retail sales in the US declined for the second month in a row. They came in roughly flat in July after a 0.2% gain the month before, and analysts forecasted a 0.2% rise in July. Motor vehicle sales slipped 0.2% in the month (which was kind of expected) following a decrease of 0.3% in June. The core reading, excluding motor vehicles, showed that sales edged up 0.1%, after an increase of 0.4% in June. Outside of the core reading, weakness for the month was mostly led by a 0.5% decline in general merchandise with modest decreases also seen in furniture & home furnishings, electronics & appliance stores, and non-store retailers. Strength for the month was primarily led by store retailers, clothing & accessories, and health & personal care. Moderate increases in sales took place at food & beverage stores; sporting goods, hobby, book & music stores; and food services. After this dip in July, it is very likely that Q3-GDP estimates will be revised slightly lower, especially if the trend continues.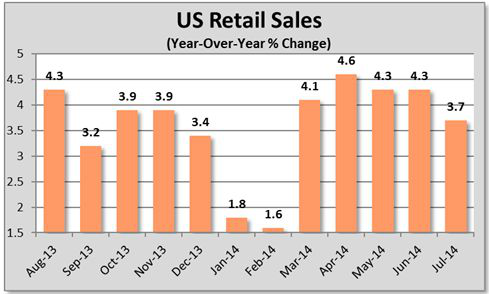 On the other hand, business inventories appear to be quite heavy given the recent slowdown in retail sales: business inventories increased by 0.4% in June over May. This is a moderate rise on its own, but looks less impressive when compared to overall business sales which rose only 0.3%. The discrepancy is only minor, however, so the stock-to-sales ratio remained unchanged at 1.3. On the other hand, retail inventories backed up in June, and increased by 0.5%, though it only noted a 0.2% increase in sales - this mismatch is far more discouraging since retailers are not selling all-to-most of their inventories. This morning's retail sales report, which was already really sluggish, is indicative that further inventory backup is likely in July. Inventory replenishment ought to be slow in the third quarter, which is also not beneficial to the next quarter's GDP reading.