Today was setup to mark the end of the best trading week in sometime, but mid-morning geopolitical concerns sent stocks lower. There were some conflicting reports out: Ukraine said its troops attacked and partially destroyed a column of armed vehicles that had crossed the border from Russia; yet on the other side, Russia said it was concerned about an attack on another convoy carrying aid and denies any involvement in the Ukrainian unrest. Regardless, the markets are not pleased and are currently hovering around session lows. Also, the economic releases in the late morning did little to move the markets, though they are painting a picture that may actually discourage the Fed from raising interest rates anytime soon.
Once per month, the Federal Reserve releases a measurement of industrial production and capacity utilization rates covering manufacturing, mining, and electric and gas utilities. The report notes that industrial production increased by a robust 0.4% in July, and equaled the revised pace set in June (originally up 0.2%), and were slightly higher than consensus' expectation of 0.3%. The most notable component was in manufacturing, which surged a whopping 1.0% in July after just a 0.3% increase in June; analysts were only looking for a 0.5% increase. Mining activity slowed a bit, increasing by 0.3% in July after jumping 1.3% in June. Within manufacturing, the production of durable goods increased 1.7% in July; this is 8.2% higher than a year ago. Capacity utilization, which measures the potential for sustainable output, was up to 79.2% in July from 79.1% in June and in-line with analysts' expectations. Overall, this shows that the industrial sector may not be as bad in the US as some originally believed.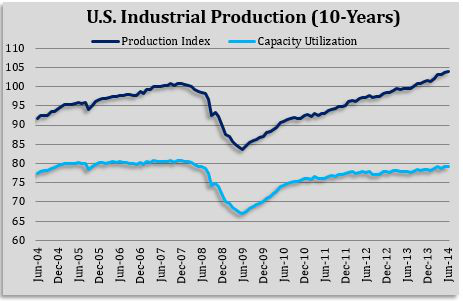 Additionally, the mid-month preliminary reading for the University of Michigan's consumer sentiment index showed a rather disappointing drop for month of August, so far. The steep fall in expectations masked a rise in current conditions, making for a deceptive 2.6-point fall in consumer sentiment to a lower-than-expected 79.2. The expectations (or optimism) component fell 5.6 points to 66.2, which happens to be the lowest reading since the government shutdown in October of last year. However, given the improvement in the labor market so far during the month, coupled with a decline in gas prices, the reason behind the decline isn't really clear. However, one clearly positive component in the report was gain in the current conditions to a recovery high of 99.6; this points to an improvement in consumer activity over July, which could also be attributed to back-to-school sales. Despite lower gas prices, consumers believe that inflation will increase. The 1-year outlook for inflation increased to 3.4%, and the 5-year outlook increased to 2.8%. Granted, this is only a preliminary reading, and in the end this may actually turn out to be an outlier-month in confidence.