By Jennifer Coombs, Research Analyst
On a day when the markets should be jumping for joy following a higher revised second quarter GDP estimate to 4.2% from 4.0%, geopolitical worries are once again messing up the rally. Diplomatic efforts to de-escalate the tension in Ukraine have gone astray, again, following word this morning from Ukraine President Petro Poroshenko that Russian troops have entered Ukraine, and that fighting in the east between Ukraine loyalists and pro-Russian rebels has geographically expanded deeper into the country. This news of a potential war has garnered blame for the decline in all major markets. Ultimately, the market was due for a day of profit taking, so the decline today isn't too extraordinary. Domestically, the US has plenty to praise: aside from the positive GDP revision, there are two other noteworthy economic releases preventing the bottom from completely falling out.
Firstly, the initial weekly jobless claims are continuing to show incremental improvement for the month of August, which should imply a lower unemployment rate in September. Initial jobless claims edged about 1,000 lower to 298,000 for the week of August 22nd and the 4-week average is down 1,250 to 299,750. Continuing claims, which lag by a week (for August 16th), actually increased by 25,000 in data, but the 4-week average is down 4,000 to 2.524 million. The unemployment rate for insured workers remains at a recovery low of 1.9%. Once again, we note that there were no special factors in today's jobless claims report which should further affirm that there will be a big improvement in the job market in the next employment situation report (to be released on September 5th).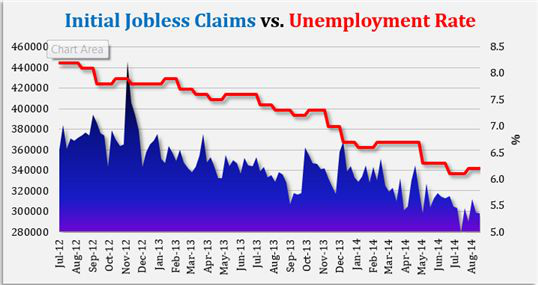 Secondly, we got another interesting reading related to the housing sector. There are gradual improvements, and today's report on pending home sales for July was led by a very strong 3.3% increase in the index to 105.9 - this gain was well above the top-end expectations. Last month's reading came in at a revised 102.5 (from 102.7). On a regional level, data is also showing improvements in all US markets. Gains were led by the Northeast region at 6.2%, followed by the South at 4.2% and the West at 4.0%. The Midwest was the only region to show a decline, but it was small at -0.4%. Ultimately, home sales are getting a lift from the new supply coming into the market and price appreciation slowing. Also, lower mortgage rates and an improving job market are helping to boost the housing sector through the summer. The pending sales are mostly existing homes, rather than new homes, but as the economy improves, so will this ratio.