After what was expected to be a devastating month to the stock market, we are looking t to close the book about the month of August on a positive note. Although the major equity indices are mixed and flat once again, there's no doubt that this week provided some good fuel for a long-term rally. Not all releases were market boosters, however. The data from the personal income and outlays report painted a discouraging picture of the American consumer for the month of July: personal income was higher but spending was much lower and savings was way higher. This suggests that wages likely aren't rising fast enough to match inflation, and the big shift towards savings is shocking; in fact total savings are at their highest levels since December 2012. On the other hand, there were a few positive economic releases that are keeping equities floating this afternoon.
Firstly, there was a move from slight to extreme monthly expansion with the Chicago PMI. The August reading came in at a whopping 64.3 from 52.6 in July. This is the highest reading since the 65.5 spike in May 2014. Production gains were responsible for the big gain in August, while new orders were described as being equally strong. Inventory accumulation was especially distinct while prices paid showed only slight gains. The only losing component in the index was employment. This reversal in the index reading makes for a nice reversal from the downward trend in recent months.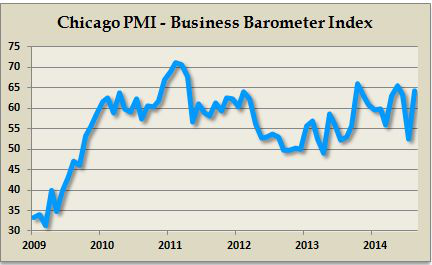 Next, we got quite a surprise from the University of Michigan's Consumer Sentiment reading, whose final reading came in higher than both the preliminary reading and last month. The final reading for August came in at 82.5 compared to the mid-month gauge of 79.2 and the final reading in July of 81.8. As was also noted in the consumer confidence report from Tuesday, the gain was once again concentrated in the current conditions component. Once again, this underscores further improvement in the jobs market due to the lightening in unemployment claims. The current conditions component came in at a whopping 99.8 versus the 99.6 reading from mid-month and 97.4 final measurement in July. An increase in the current conditions component points to general strength in consumer activity versus last month. Gas prices are very soft at the moment (lower than the price-levels from the same time last year), but inflation expectation readings are no better than mixed. Consumers still expect inflation to pick up big in the next five years. In the end, this report gives mixed messages: outlook is positive in the short-term, according to the current conditions component, but long-term, outlook is soft, according to the employment and income components. Despite the fluctuations in sentiment, the market is still climbing higher.