By Jennifer Coombs, Research Analyst
It's difficult to pin down exactly which economic release fueled the rally this morning, but it's safe to say that the level of optimism is tremendous. Both the Dow Jones Industrial Average and the S&P 500 achieved new all-time intraday highs while the NASDAQ is trending higher as well. In advance of the Bureau of Labor Statistics' jobs data report tomorrow, ADP's jobs figures fell short of expectations: private payroll growth for August is 204,000 compared to consensus' expectation for 223,000 and a revised 212,000 for June. The corresponding consensus for Friday's jobs report from the government is 220,000 compared to July's 198,000 - which might be slightly ambitious. Additionally, initial jobless claims aren't improving, but are steady at low levels, up 4,000 in the week of August 30th to 302,000 and the 4-week average is up 3,000 to 302,750. Continuing claims, which lag by a week, showed improvement, down 64,000 in the week of August 23rd to a new recovery low of 2.464 million. In addition, the European Central Bank (ECB) lowered the main refinancing rate by 10 basis points to 0.05% and cut the deposit facility rate to -0.2%. The European bank officials also announced that the ECB would start buying securitized debt and covered bonds to ease the flow of bank funding. The aforementioned are likely the primary contributors to the rally; however the following releases are also noteworthy.
Productivity & Labor Costs
The second reading for Q2-2014 nonfarm productivity growth was bumped down to a 2.3%-annualized gain after declining 4.5% in Q1-2014. Unit labor costs also declined to -0.1% in Q2 after an 11.6% annualized surge in Q1-2014. However, we note that the dramatic numbers for Q1-2014 were largely due to the atypical impacts of extreme winter weather. Output rebounded 5% after a 2.4% decline in Q1, but compensation growth decelerated to 2.3% from a 6.6% jump in Q1. On a year-over-year basis, productivity increased 1.1% after a 0.7% increase in Q1. Ultimately, these figures for the second quarter reflect a stark rebound from the first quarter, but Q3-2014 will provide a much better read into the underlying trend going forward.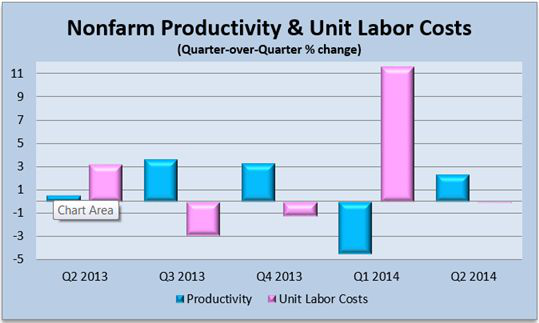 Non-Manufacturing (Services) PMI
Growth in the US service sector remains solid according to both of the final PMI readings from Markit and ISM this morning. Markit's composite index came in at 59.5 in August, which was up one point from the mid-month flash reading, but down 1.3 points from July. Overall the reported noted that the service sector is upbeat with particular strength in business activity and employment. Markit also notes that cost inflation increased in August from a 15-month low the month before. ISM's non-manufacturing survey sample reported greater acceleration with the composite index at 59.6 compared to the 58.7 reading in July and is near the top-end of analyst expectations. The monthly gain was led by the business index which jumped to 65.0, indicating exceptionally strong output for the month. Employment was also up to a reading of 57.1 and this gain may slightly offset the weakness witnessed in ADP's jobs estimate. New orders were up huge in July at a reading of 64.9, but they declined in August to 63.8. All in all, both readings show a long-term positive trend from the lows in February.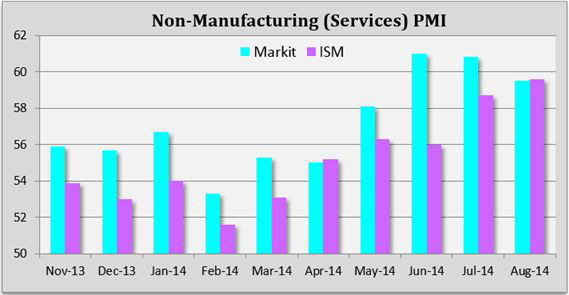 International Trade Gap
Lastly, we note that there is further contraction in the US trade deficit during the month of July. The international trade deficit shrank marginally to $40.5 billion from $40.8 billion back in June, but the chart below shows a nice contraction in the deficit over the last three months. Exports increased 0.9% in July after no change the month before, while imports gained 0.7%, following a 1.1% drop in June. According to the Commerce Department, the deficit gap with China hit a new record in July, which could suggest an improvement in business sentiment for U.S. consumer demand - especially during the holiday season - since imports take some time to be placed and processed. While this positive data is also a factor in the Fed's decision on interest rates, their focus remains on employment data rather than trade.