By Jennifer Coombs, Research Analyst
After dipping in the morning hours, and following the President's speech at the UN, all of the major equity indices have made a substantial recovery to the upside. All three major equity indices are back in the green following another night of bombing on the Iraq-Syria border. New-home sales turned out to be better than expected, however the sentiment in Europe's largest economy is continuing to drop.
Homebuilding stocks took a wild ride today following the Commerce Department of the US Census Bureau's release of new-home sales from August 2014. Sales of new homes surged to the highest level since 2008 which is indicative of an underlying consumer demand that might actually boost the overall housing market. New home sales increased by 18% over July to a seasonally adjusted annual rate (SAAR) of 504,000 homes - this is the largest one-month gain since 1992. To top it off, sales in July were revised higher to a rate of 427,000 from an initially reported 412,000. Economists had originally forecasted new-home sales to increase by 3.4% to a SAAR of 426,000. Roughly 10% of all home purchases are new-home sales which is the most volatile type. While sales have picked up, there is still a long way to go; versus last year, new-home sales were up 33.0% in August, but before the recession new-home sales typically reached an annual total of 1 million new homes per year. On a regional basis, sales in every region increased during the month of August, except for the Midwest which was flat. The report also showed that the number of homes available on the market declined sharply in August, which would bode well for the US economy if demand continues to pick up, and builders ramp-up construction.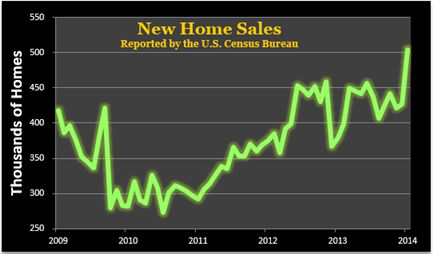 Across the Atlantic, there continues to be trouble in business confidence, likely in the face of US tax rules that may chill "inversion" corporate deals. In Germany, the IFO Business Climate Index measures entrepreneurs' sentiment about current business situation and their expectations for the next 6 months. The survey is made by phone and reaches out to about 7,000 manufacturing, construction, wholesaling and retailing firms. The German business climate index decreased for the 5th straight month to 104.7 in September from 106.3 in August, and business expectations fell to 99.3 from 101.7 while the gauge for current business conditions dropped to 110.5 from 111.1. As the chart below suggests, this is the lowest level for German confidence in over a year.