So far in the session, the markets are moving with a fair amount of volatility as the Federal Reserve will publicize its latest monetary policy decision at 2:00PM. Many expect the Fed to announce the final tapering installment and the end of QE3 in the FOMC minutes. There are some pretty wild swings thanks to tech and internet names in the NASDAQ, which has been in the red for the entire session thanks to Facebook (NASDAQ:FB) shares tanking following plans for increased spending. On the other hand, shares of Chrysler Fiat (NYSE:FCAU) are popping huge today after the company announced that it plans to spin off its Ferrari division.
Oil futures are making a rally today by roughly 1.6% to $82.70 per barrel, largely thanks to the weekly inventory data released mid-morning. Crude oil inventories had a build of 2.061 million barrels which was less than consensus' estimate of a 3.5-million barrel build. Gasoline inventories had a draw of 1.236 million barrels, which was more than consensus' estimate for a draw of 1.0 million barrels. Lastly, distillate inventories had a draw of 5.294 million barrels which was much higher than consensus' estimate of a 1.3 million barrel draw. The weekly change in refinery utilization came in at -1.4% for the week. Based on the release, the switch to winter-grade fuels is winding down which should help keep oil inventories down in the weeks ahead. For some reference, below is a chart of oil prices over the last five years.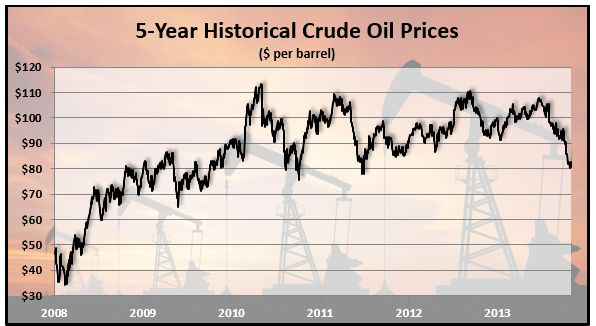 While oil prices remain low, the drop in mortgage rates has yet to majorly raise the demand for purchase applications last week. The Mortgage Bankers' Association's (MBA) weekly report on home purchase applications fell sharply by 5.0% for the second week in a row, and the year-over-year trend is now suddenly lower. The rate had been in the low negative double-digits, but last week it dropped to -15.0%. Nevertheless, the drop in mortgage rating is stirring up demand for the number of refinancing applications; however the level of refinance applications fell by 7.0% last week after a giant 23.0% surge in the week before. MBA's report noted special activity among the holders of loans $417,000 or greater - this is a group that is very sensitive to rate changes, but their application volumes have been doubling and tripling this month.
Mortgage rates have moved slightly higher in this latest week, with jumbo balances for 30-year fixed mortgages rising about 10 basis points to an average of 4.13%. The average rate for 30-year conforming balances ($417,000 or less) increased by 3 basis points and is also at 4.13%.