It's Election Day! Don't Forget to VOTE!
A variety of economic proponents have caused the broad indices to sell off by roughly 0.7%, but the biggest culprit of all is oil. Oil futures continue to be in free-fall mode this afternoon, dropping to a new 3-year low below the $77 per barrel level. This morning, it was announced that Saudi Arabia, the world's largest exporter of crude oil, had slashed its contract price for its US customers in a further sign of an escalating war for control of global energy markets. The idea is that this will squeeze profitability from shale oil producers in the US who are currently the biggest threat to the Saudi domination of the Organization of Petroleum Exporting Countries (OPEC) when it comes to controlling the price of oil. The Saudi government has no plans to slash supply in the near term, so we can expect the price of oil to remain low for some time and that the price may potentially fall even further. While this means cheaper gas for Americans in the next few months, it also means a potential drop in some important US economic measurements (like GDP). The economy is already starting to feel the impact from lower oil prices, and this is particularly evident in the two major releases today.
The overall slowdown in the global economy didn't do much to help the U.S. trade deficit in the month of September. The trade gap expanded to $43.0 billion from $40.0 billion in August, while economists were looking for a slightly bigger deficit of $40.7 billion. Overall, US exports declined 1.5% for the month, after a 0.3% increase in August, while imports were unchanged after a 0.1% uptick in the previous month. The petroleum gap grew to about $14 billion from $13.1 billion in August, and odds are this gap will continue growing. Goods (excluding petroleum) increased to $47.2 billion from $45.5 billion in August, while the services surplus dropped to $19.6 billion from $20.2 billion. Ultimately, slower global growth has weighed down growth in the U.S., however lower oil prices will likely result in a favorable number for October and quite possibly November as well. The chart below shows how we broke the trend of four straight months of a decline in the trade deficit.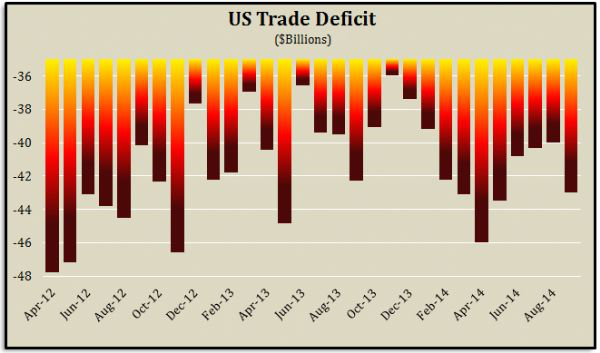 Reflecting yesterday's industrial readings, the trend for factory orders has been relatively flat as of late. This trend didn't improve much in September with orders falling 0.6% over the previous month. The dollar total for new orders in September was at $499.4 billion, but is no better than in April when it first broke over $500 billion at $500.3 billion. Durable goods, which were discussed last week, have reversed slightly higher, but are still down at -1.1% after a preliminary reading of -1.3%. Weakness on the durable goods side is broad and includes special weakness in capital goods categories, and this ultimately points to overall weakness in business confidence and business investments. On the non-durable goods side, data was unchanged in September after declines of -0.4% and -0.8% in the previous two months. The decline in oil prices is sure to drag down all of the petroleum-related subcomponents in the October report. All of the readings outside of orders are relatively soft, including a 0.1% increase in shipments and a 0.3% increase in unfilled orders - this is the lowest level for this reading since February 2014. On a positive note, manufacturers are keeping their inventories in check since the inventory-to-shipments ratio remains unchanged at 1.30. Momentum in the second-half of the year has been hindered thanks to mixed readings throughout the US manufacturing sector; the next major indicator will be released in the jobs report on Friday.