Oil prices are the culprit behind the market decline once again, as prices collapsed further below the $60-level to around $57.50 by noon. This morning, the International Energy Agency (NASDAQ:IEA) cut its 2015 outlook for global oil demand growth by 230,000 barrels per day to 0.9 million barrels, and warned that excess supply will continue to put pressure on prices. Most notably, the IEA stated that it's far too early to expect low oil prices to curtail the supply boom in North America, which led to many US energy stocks dropping harder today. At the same time that supply is too great, Mexico announced the first phase of its historic opening of the oil sector to foreign investors, pledging transparent auctions in July for 14 shallow-water fields. This perfect storm of oil-related data caused the major equity indices to trade well in the red, however, US economic data releases were actually quite positive.
As we noted this morning, inflation at the producer level eased up somewhat last month as the PPI for total final demand declined 0.2% after rising 0.2% in October, and consensus called for a 0.1% decline. When food and energy prices are excluded, the PPI reading was flat, following a jump of 0.4% in October, while analysts projected a 0.1% increase. The final demand goods index declined by 0.7% in November, making it the fifth month in a row of declines, but this wasn't the primary component that contributed to the headline loss. The index for final demand energy was down 3.1%, most assuredly due to the drop in oil prices. The index for final demand goods, excluding food and energy, edged down 0.1%. The index for final demand services inched up 0.1% in November on the heels of a 0.5% rise in October. During the month, prices for final demand services less trade, transportation, and warehousing, as well as margins for final demand trade services, rose 0.1%. In contrast, the index for final demand transportation and warehousing services declined by 0.8%. The major takeaway is that there is little inflationary pressure at the producer level, which should mean that inflation at the consumer level (NYSEARCA:CPI) should be low as well. The consumer price index (CPI) reading will be released next week on Wednesday, December 17th.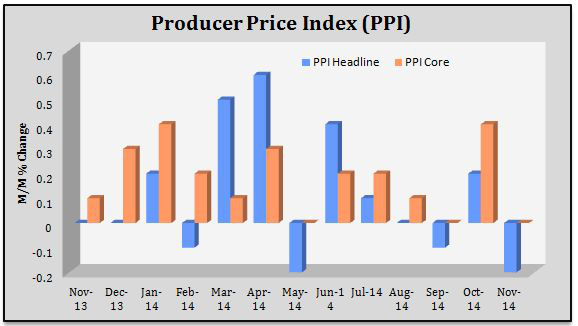 Additionally, Reuters/University of Michigan published its preliminary reading for December's consumer sentiment…and it's surging. The mid-month reading for December came in at 93.8, on top of an already strong 88.8 final reading in November, making this the strongest reading since January 2007 when the market was stretching to new all-time highs before the crash. The current conditions component was up 3.0 points from November to 105.7, which is indicative of a month-to-month boost in overall consumer activity in December. The expectations component has been lagging as of late at 86.1, but it's up a very sharp 6.2 points in December, signaling a rise in optimism in the consumer's outlook for income and jobs. Lower gas prices are one of the reasons behind the strength in sentiment and are likely the reason inflation expectations are rather low. All in all, this is good news for the national's retailers going into the final weeks for holiday sales.