Volatility continues to run rampant, however, today it seems as though the tables have turned for the better. The major equity indices are experiencing a sizable rally today, and are just about back to where they started 2015. Crude oil prices continued their descent, currently trading below $46 per barrel. According to a poll yesterday, Greece's anti-bailout Syriza party held a steady lead over Prime Minister Antonis Samaras' conservative party ahead of the snap election to be held on January 25th. The poll put Syriza at 31.5% against New Democracy's 27%. China is cranking out more products while taking in less from overseas, as exports jumped 9.7% in December, beating expectations for 6.0% growth, while imports declined by just 2.4%, which wasn't as bad as the 6.2% drop that was expected. Domestically, there were two important economic releases, both pointing to some much needed optimism in the labor market.
According to the Bureau of Labor Statistics' (BLS) Job Openings and Labor Turnover Survey (JOLTS) there were 4.972 million job openings as of the last business day in November 2014. This was changed from the revised 4.83 million job openings from October 2014. The number of new hires (4.990 million) didn't change much during the month, and separations (4.623 million) came down in November. Within the separations component, the all-important quits rate (1.9%) was unchanged for the month and the layoffs and discharges rate (1.2%) was also stagnant. The job openings rate was 3.4% and total private sector job openings were little changed for the month while government job openings actually increased. On a year-over-year basis, the number of job openings (not seasonally adjusted) increased in November for total nonfarm, total private, and government. The number of openings actually increased across many industries, including professional and business services, health care and social assistance, and accommodation and food services. There was a decrease in the number of openings the in arts, entertainment, and recreation sectors. Overall, there was a broad increase in all four major US geographic regions, which should imply some positive employment data in the comments of the next Fed Beige Book.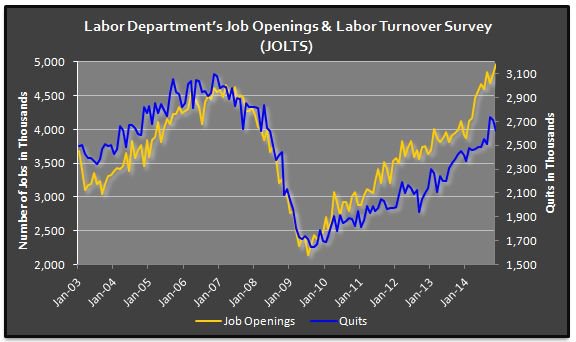 Additionally, the small business optimism index posted an impressive reading of 100.4 for the month of December. That's 2.3 points higher than in November, and the highest reading of the recovery since October 2006. The gain for the month was based broadly on 8 of the 10 index components advancing, led particularly higher by expectations for higher sales. The components for sentiment on expansion, capital outlays, and employment also posted very solid gains. Inflation pressure was muted with a sizable 22.0% of the sample saying that they plan to raise prices in the coming months, which could be one of the first indications of future inflationary pressures. All in all, this report coupled with the Bureau of Labor Statistic's jobs report show that the employment situation is improving and we can expect economic strength in the near-term.