So far, so good for the major equity indices as it appears that major selloffs have taken a backseat. As long as the S&P 500 holds tight above the 2,000-level the market should stay in a long-term bullish trend. This morning, we learned that core inflation (NYSEARCA:CPI) in the United States for the month of December remains low thanks to the recent drop in energy prices. The December figure matched market expectations for a 0.4% drop in headline CPI and was the largest decrease since 2008. Today, the price of oil remains somewhat stable, increasing by 3.0% to just above $48 per barrel. In advance of the Martin Luther King holiday weekend, trading activity is rather slow. However, there are a few more economic pieces to add to today's picture.
Firstly, the manufacturing sector is notably better than the headline figure for December's industrial production thanks to a recent drop in utilities. During the month of December, industrial production fell by 0.1% after a 1.3% jump in November. Analysts had anticipated a decline of 0.1% on a reversal in the utility surge from November. However, the manufacturing sector gained 0.3% in December after a 1.3% surge in November, and was above the consensus estimate for a 0.2% increase. Mining activity also rebounded in the month, jumping by a very healthy 2.2% after a 0.3% decline in November. Utilities activity, thanks to lower gas prices, dropped by 7.3% in the month after a 4.2% increase in November. Production increases were recorded in primary metals, computers and electronics, apparel and leather, and plastics and rubber products. There were declines recorded in wood products, motor vehicles and auto parts. Overall capacity utilization, shown in the chart below, eased to 79.7% in December from 80.0% in November. As gas prices decline, it is likely that utilization will continue to decline; during the recession, utilization dropped to as low as 66.9%. This report, combined with a positive consumer sector, should make the outlook for economic growth favorable. The latest local manufacturing reports were mixed so far in January, as the Empire State and Philly Fed readings showed yesterday. However the Fed's Beige Book noted moderate growth in the manufacturing sector across most of the country going forward.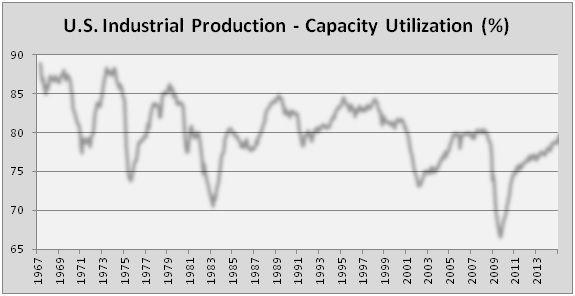 Probably the most positive news of the day came from the preliminary January reading of the University of Michigan's Consumer Sentiment Index. Retail sales and home sales may have been soft over the past month, but sentiment surged by 4.6 to a mid-January reading of 98.2 - the highest reading since January 2004. The surge was primarily due to the expectations component which increased by 5.0 points over December to a reading of 91.6, which is also at the highest level since January 2004. There is also a notable accelerating in consumer activity as the current conditions components surged by 3.5 points to 108.3 for the highest level since January 2007. We note that the steep drop in gas prices is the primary driver behind near-term sentiment. However, there are gains underway in the labor market which is also giving consumers new confidence which is slowly starting to be reflected in consumer spending.