Crude oil and the equity markets rallied again today, after it became apparent that Saudi Arabia was using oil policy to pressure the Russian government into ceasing support for Bashar al-Assad's regime in Syria. The idea is that the Saudi government will agree to reduce oil production, and in turn drive up prices to alleviate some of Russia's economic problems if Vladimir Putin agrees to withdraw support for Assad. While the idea on the table is fascinating, the odds of Russia agreeing are quite low. Nevertheless, that hasn't stopped the Dow Jones and S&P 500 from surging today; however, the NASDAQ remains under some pressure. One of the lesser-talked-about data points of the day was Gallup's US Economic Confidence Index (ECI) which closed out the month of January with a reading of 3, which is the first monthly average in positive territory since the recession began. The index is a combined measure of how consumers believe the market is now and how it will be in the near-future. Despite this surge in confidence, factory orders showed some relative weakness in December.
Headline numbers made the factory orders look bad for December, however the core readings are a bit more optimistic. In December, factory orders fell by a steep 3.4% for the fifth straight month of declines. It also didn't help that the November reading was revised even lower to -1.7% from -0.7%. This marks the longest losing streak for factory orders since late 2008 and early 2009. Durables orders declined by 3.3% in December, which is slightly higher than the initial reading posted last week. However, excluding defense goods and civilian aircraft, durables orders actually increased by 0.1%, making this the first positive reading after three negative readings. Another core reading worth noting is nondefense capital goods excluding aircraft, which slipped only 0.1%, but still resulted in the fourth straight monthly decline. Non-durables, weighed down by price effects tied to oil, have also been on a long losing streak, and declined for the sixth month in a row to a very sharp -3.4%. Both petroleum and coal products were especially weak in December and it isn't likely that this figure will improve in the January reading. Manufacturing production, inventories, and shipments all declined in December as well.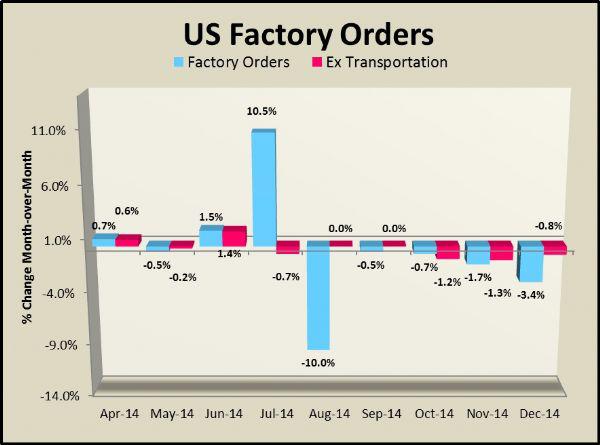 Weak foreign demand, mostly due to a stronger dollar, combined with slowing oil production is pulling down the US manufacturing sector. As we saw from both the ISM and Markit readings on manufacturing yesterday, the sector is expected to remain under pressure in the early part of 2015.