After opening in the red, following a long holiday weekend, the markets have made a substantial reversal with all three major indices entering positive territory and the S&P 500 and NASDAQ touching new intraday highs once again. The initial open in negative territory was due to a lack of resolution in the Greece-euro zone standoff over the weekend, however that all changed this afternoon after an announcement was released that Greece intends to ask for a bailout extension tomorrow when meetings resume. Global markets were mixed overnight, but domestic markets appear to be holding their own with the help of a few releases.
Over the past few years, the U.S. Census Bureau has released a supplemental report to the retail sales data, highlighting the quarterly changes in e-commerce sales. Based on a variety of online retailers' disappointing earnings, it comes as no surprise that e-commerce sales are slowing. Q4-2014 e-commerce sales increased quarter-over-quarter by 2.3%, which was notably slower than the revised 3.6% increase and 5.0% increase in the prior two quarters. However, as time goes on the percentage of e-commerce sales relative to the total number of retail sales keeps increasing; this quarter it came in at a record 6.7%. Both of these metrics are indicated in the chart below. On a year-over-year basis, e-commerce sales increased by 14.6% in Q4-2014, however this is down from increases of 15.8% in each of the last 2 quarters. The gain is roughly 3 times greater than the year-on-year percentage gain for total core retail sales (ex-auto ex-gas) which was just under 5% in the quarter.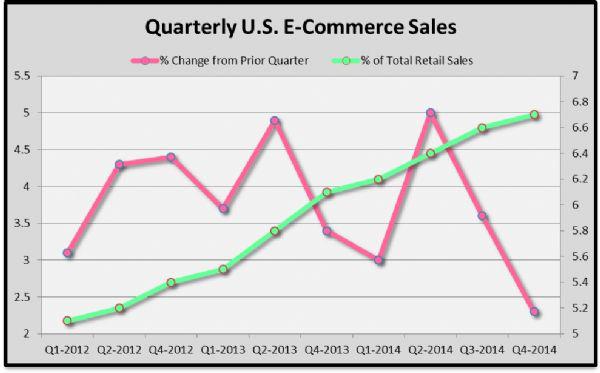 Additionally, the homebuilding outlook remains positive for new home sales according to The National Association of Home Builders (NAHB) and Wells Fargo's monthly housing market index. In February, the index reading came in at 55.0 versus 57.0 in January, however we note that the index has average 56 since first entering into expansionary territory (above 50) in July 2014. However, a negative in the report was a further drop in the traffic component, which dropped by 5 points to 39 for the lowest reading since July 2014. Lower buyer traffic reflects a persistent lack in first-time homebuyers in the market, particularly among Millennials. Future sales, tracked by the expectations component, were unchanged at 60 with present sales down only slightly to 61 - both very strong readings. Following the deep pessimism in 2010 and 2011, builders are gaining confidence in the market, but that has yet to translate into an increase in new home sales. Despite this, builders see strong acceleration in new home sales this year to 572,000 from last year's 435,000 and for 2016, they expect to see a huge surge to 807,000.