2/23/2015 2:20 PM

Most U.S. equities are edging lower today once again thanks to weakness in oil prices which have broken below support of $50 per barrel. This after the Dow and S&P 500 closed at record highs last week in the wake of a conditional agreement by euro zone finance ministers to extend Greece's bailout by another four months. Greece is presenting its economic reform to the euro zone today, but it is likely that the European Monetary Union will be skeptical of any plan the Greek government proposes. In tech land, the NASDAQ, is see-sawing, reversing from intraday lows to pop back into positive territory hitting a new 15-year intraday high, but is back in the red now. It's highly expected that the NASDAQ will touch a new all-time high this soon as it's less than 90 points away.
Domestic economic activity was actually quite prominent for a Monday, although as with most reports of late, the results were mixed. Firstly, the Chicago Fed National Activity Index (CFNAI) showed that January was a good month for the economy as the index jumped back into positive territory at 0.13 from December's revised reading of -0.07 (from -0.05). The three-month average for the index is quite strong, little changed at a positive 0.33. The CFNAI is a weighted average of 85 economic indicators, and the biggest swing factor in January was in the production-related indicators which increased to +0.02 in January from -0.22 in December, driven primarily by higher industrial production. The negative reading from consumption & housing improved slightly to -0.10 from -0.13. Employment indicators were a big positive but, due to a tick higher in the National unemployment rate at 5.7% from 5.6% the reading dropped to +0.18 from +0.28 in the prior month.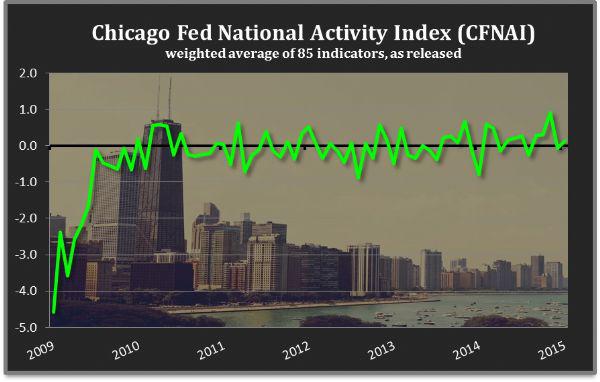 This is another big week for national housing data, and we kick off the week with January existing home sales, which remains relatively low despite a stronger jobs market, low mortgage rates, and higher housing demand. Sales of existing homes declined by a steep 4.9% in January to an annual rate of 4.82 million homes, which is the lowest rate since April 2014. All geographic regions noted single-digit declines, with the deepest decline in the West at -7.1% over December. Overall, declines were prominent in both single-family homes and condos at -5.1% and -3.5% over the previous month, respectively. Price concessions didn't help sales either, with the median home price down 4.1% to $199,600. We note that this is the first reading below $200,000 since March last year. The decline in sales for the month led to a rise in the inventory relative to sales at 4.7 months versus 4.4 months in December. The National Association of Realtors (NAR) notes that many homeowners are now staying in the homes an average of 10 years versus the long-term average of 7 years, noting that many homeowners are currently satisfied with their mortgage rates and are doubtful housing will rebound. We note that seasonal adjustments have an outsized effect on housing data during the winter; however this report is just one of many slow housing reports so far this year.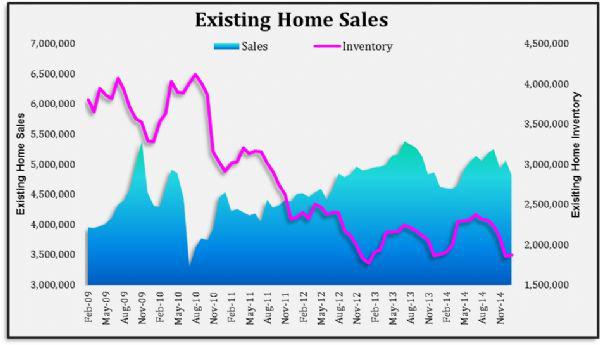 Lastly, after the Empire State and Philly Fed reports denoted weakness in manufacturing, it comes as no surprise that the Dallas Fed is facing a similar slowdown. February factory activity in Texas noted a second month of no growth. The production index, which is a key measure of state manufacturing conditions, remained near zero at a reading of 0.7 as indicated that output was essentially unchanged from January levels. Perceptions of broader business conditions, as noted in the business activity component, remained rather pessimistic this month. The general business activity index moved further negative to -11.2, down from -4.4 in January posting its lowest reading in nearly two years. Additionally, the labor market indicators reflected only minor employment growth and slightly shorter workweeks. The Employment index moved down to 1.3 from 9.0 the month before. About 15% of firms noted net hiring while 14% noted layoffs. Ultimately, the Dallas Fed report plays well with the thesis of the Federal Open Market Committee (FOMC) doves, who insist that interest rates remain low. Manufacturing activity is weak and inflation pressures are non-existent currently. It will be interesting to hear what Janet Yellen has to say on Wednesday.