There's plenty of green on the screen during today's session, which is a nice surprise on a day when the Federal Reserve makes statements. All of the major equity indices managed to touch new intraday highs, even the NASDAQ managed to pop into positive territory long enough to hit another 15-year high. This morning, Federal Reserve Chair Janet Yellen gave her biannual update on monetary policy to the Senate Banking Committee. On monetary policy, she said that forward guidance will change before rates will rise. She noted that wage growth remains sluggish and inflation is still well below the 2.0% target, which are part of a broader theme to keep interest rates low at least for the next couple of Federal Reserve Open Market Committee (FOMC) meetings.
While Yellen's comments gradually lifted the market higher in the earlier half of the trading session, there were several domestic economic releases that also had a mixed impact on equities. Yesterday, we noted that the sales of existing homes was slowing, but according to the December reading of Case-Shiller's adjusted 20-City Index, price traction is beginning to become more prominent. Month over month, the index showed a gain of 0.9% which is the strongest monthly gain since March 2014. Growth on a year-over-year basis, which had been slowing this time last year, is now leveling at +4.5% year-over-year, versus 4.3% in November which was the first gain for this reading since November 2013. The unadjusted data tells a similar story to the adjusted data, but on a monthly basis reflected weakness of the housing market during the winter months. This report along with the Federal Housing Finance Agency (FHFA) report trended higher going into year-end, perhaps offering some explanation for the January spike in consumer confidence. However, higher prices did not correlate with stronger sales as existing home sales late last year were basically flat. The FHFA will release its December data on Thursday morning. We would also like to mention that Robert Shiller will be a special guest tonight on Charles' show Making Money with Charles Payne at 6:00PM EST.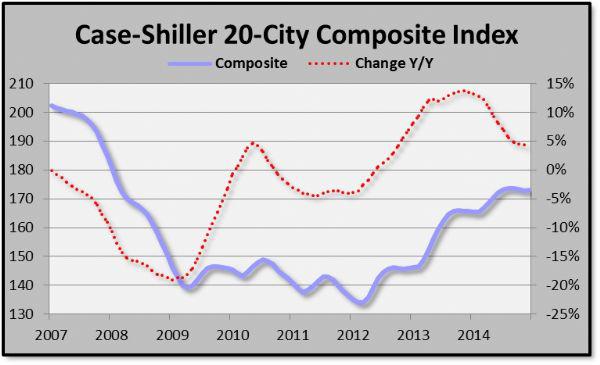 Although the Institute for Supply Management (ISM) is our preferred database, Markit's measurement of the services purchasing managers index (PMI) gives a peak at the health of the sector. Thanks to a strong rebound in new jobs, Markit's Services PMI rose to a 4-month high of 57.0, compared to the final reading of 54.2 in January and the preliminary reading in January of 54.0. According to the sample backlog, hiring is actually up for February; however, the outlook is at a 4-month low. Price readings are still low but did edge slightly higher from January. The report notes that effects caused by severe winter weather in the Northeast were offset by mild weather in the West. Overall, the report points to some strength for the economy in February.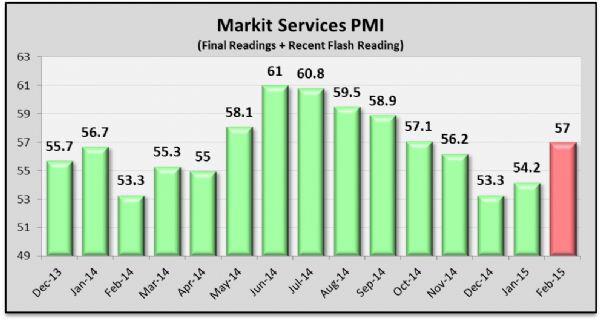 Lastly, consumer confidence showed a nice spike in January but has been coming back down as indicated by the University of Michigan's readings and today's Consumer Confidence report from the Conference Board. In February, consumer confidence fell by 7.4 points to a reading of 96.4, substantially lower than January's upwardly revised 103.8 which was a 7.5-year high. Ultimately, the decline in confidence is centered on the expectations component which fell by a very steep 9.8 points to a reading of 87.2. Another closely watched sub-component, jobs currently hard to get, rose 1.6 percentage points to 26.2% which is a mild indication of weakness for the February employment report. We note the decline in the expectations component doesn't reflect a rise in the number of pessimists, but more a decline in the number of optimists. Several reports this month, namely the Fed manufacturing reports, also show significant declines in optimism. The reason for this is impossible to pin down, though cold weather through much of the country may be severe enough to freeze consumer spirtis for the time being.