By Dominique Paul, Research Analyst
The major equity indices are recovering from Friday's sell off as concerns regarding the Fed hiking interest rates ebb, for now. Since hitting a bottom six years ago today, the S&P 500 has gained approximately 207.17%. Though the market is not conscious of things such as its own anniversary, it does seem like it is celebrating being six years strong. Today was very light of economic data releases which leads us to believe that investor enthusiasm stems from a few different places. First, the major news of the day is Apple (NASDAQ:AAPL) hosting its event in which the Apple Watch should be launched. It seems the European Central Bank (ECB) embarking on its newest quantitative easing (QE) program is being well received by investors. Also, crude oil is up approximately 1.71% and maintaining a price above $50 which bodes well for the oil and gas sector.
The S&P 500 Index 6-Year Performance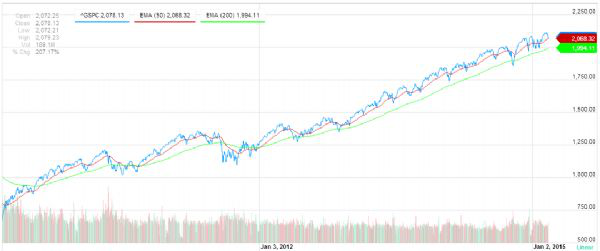 Tomorrow, we will be presented with a string of domestic economic data releases, starting with Redbook's same-store sales report.