US equities got some reprieve during today's session amid a slew of disappointing financial news across the globe. The euro is continuing to crumble amid the stresses in Greece and a negative outlook from Deutsche Bank, dropping to exchange levels last seen in 2003. Greece managed to receive a 500 million euro lifeline from the European Stability Mechanism (ESM), but still must continue negotiations to meet its obligations through March. Industrial production, fixed asset management, and retails sales in China were all weak for the January-February period (which is usually combined since the Lunar New Year typically disrupts business activity).
Domestic data was typically light by midweek, however, today there were a few notable weekly reports. Firstly, the price of oil was all over the place again today after the weekly Energy Information Administration (NYSEMKT:EIA) noted the 9th straight week of crude inventory builds. For the week ended March 6th, the EIA showed an inventory build for 448.9 million - another 80-year record high. However, refineries have been cutting back production, at least of gasoline where inventories edged 0.2 million barrels lower. On the other hand, production of distillates increased in the latest week contributing to a 2.5 million barrel build. On the wholesale level, the oil sector is oversupplied in products with gasoline supplies up 2.8% year-on-year, which is heavy for this reading, and distillates up 12.8% which is extremely heavy. As such, the price of oil continued its decline, falling to under $48 per barrel. Below is the latest chart on weekly crude inventory levels.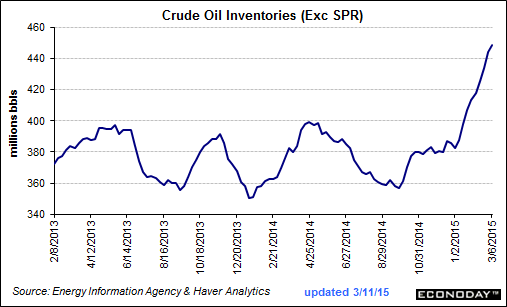 Lastly, but not a major market mover, was the Mortgage Bankers Association's (MBA) weekly reading on mortgage applications. For the week ended March 6th, total mortgage applications for home purchases increased 2.0% over last week, with the year-over-year rate also up 2.0%. This is quite positive going into the spring selling season. Applications for refinancing, however, fell by 3.0% over last week. Mortgage rates for conforming loans (that's $417,000 or less) were actually up for the week by 5 basis points to 4.01% for the highest mortgage rate since early January 2015.