Right from the get-go, the major equity indices conceded all of their gains for the week and then some as macroeconomic concerns weighed heavy on markets across the globe. International markets traded sharply lower overnight on renewed Greece concerns and new Chinese trading regulations. Major European stock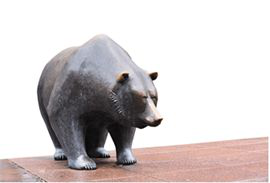 markets traded about 1.0% lower, following a selloff in Chinese futures over news of coming government regulations to expand short-selling and limit over-the-counter margin trading. The cherry on the top of the cake was mixed economic data domestically, with the headline and core readings of US consumer price index (NYSEARCA:CPI) both rising 0.2% in March after a 0.2% increase for both in February. Eventually, this trend in inflation is still lethargic and doesn't spell an interest rate hike anytime soon.
While the global markets continue to plunge, there is still some lingering optimism in the domestic economic data. Firstly, the University of Michigan's consumer sentiment index remains very strong at a reading of 95.9 for mid-April compared to a final reading of 93.0 in March, and the mid-March reading of 91.2. This is one of the highest readings since 2007; the index hit an 8-year high of 98.1 back in January. Solid gains were noted in the current conditions component to 108.2 versus a final reading in March of 105. Ultimately, this points towards strength in consumer activity, and potentially retail sales, for the month of April. The expectations component is at a strong 88.0 from a reading of 85.3 in March, and points to rising confidence in the jobs market. Gas prices continue to be low and are ultimately contributing to a downturn in inflation expectations, to 2.5% over the next year versus a final reading of 3.0% in March. For the 5-year outlook, inflation expectations are also down to 2.6% from 2.8% in March. We note that these inflation expectations are quite low for this report, and ought to catch the attention of policymakers in the Federal Reserve.
Low inflation expectations run the risk of a self-fulfilling prophecy: consumers will refrain from spending now in anticipation that overall prices will move lower. On the other hand, low inflation means more money for consumers to save and to spend. Ultimately, the data in this report should hint at positive Q2-2015 economic momentum.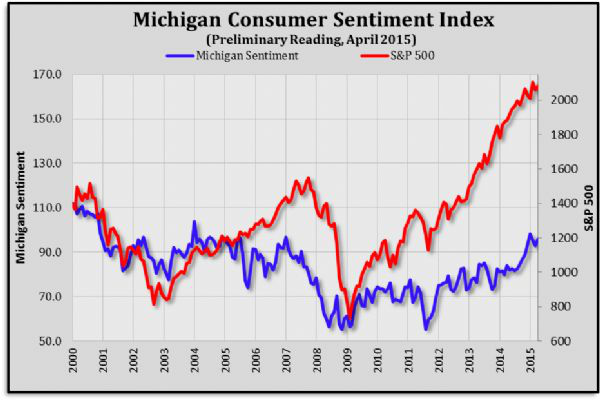 Next, growth across all major economic indicators over the last month remains tepid. The Conference Board's Index of Leading Economic Indicators increased by only 0.2% in March following a downwardly revised 0.1% gain (from 0.2%) in February. Strength for the month of March was prominent in the jobless claims component, but that situation may be evaporating in April. The second prominent driver is the rate of spread reflecting the Federal Reserve's near-zero interest rate policy. Ultimately the most convincing positive data point is in consumer expectations which, reflected in the aforementioned sentiment index, looks to be positive in April as well. Some laggards in the index were building permits, which were reflected in the housing starts report earlier in the week. It is worth noting that housing, despite some hopeful data, has yet to really fuel an economic recovery. The manufacturing sector continues to pull down economic growth, with notable declines in the factory workweek and factory orders, largely thanks to weaker exports due to a stronger dollar. Overall, this report is quite soft, and will serve as another check for the doves in the Federal Reserve.