There's no rest before the jobs data as the major equity indices are jumping all over the place, however they are currently rising to session highs following the release of the weekly natural gas inventory levels. For the week of May 1st, natural gas in storage increased by 76 billion cubic feet (bcf) to a total of 1,786 bcf. This morning, former US Treasury Secretary Tim Geithner said that a financial crisis will happen again at some point, but the structural reforms made after the crash in 2008 will serve to mitigate damage. In the premarket, it was noted that the number of Americans filing new claims for unemployment benefits was 265,000 in the week ended May 2nd, an increase of 3,000 from the previous week's 15-year low. At the same time, continuing claims fell to the lowest level since late 2000. Market volatility is running rampant; there's no telling at this point where we could close.
Other than the weekly jobs data, there were a few other less-impactful economics releases that are primarily jobs-centric. Firstly, price weakness in the oil sector was largely responsible for about 30% of all layoff announcements in April, which according to Challenger, Gray & Christmas Inc. (a global outplacement consultancy) totaled 61,582, which was well up from 36,594 cuts in March and 40,298 in April of last year. In the energy sector alone, total job layoffs came in at 19,745. Two of the three prior months also showed very heavy cuts: 16,339 in February and 20,193 in January. Overall layoff announcements have been on the rise outside of energy; however the lag between announcements and actual dismissals can take a few months to catch up. If you look at the overall chart for weekly jobless claims, you can see a noticeable downward trend since the peak of the recession. Therefore, we don't expect this report to affect the Bureau of Labor Statistics' jobs report.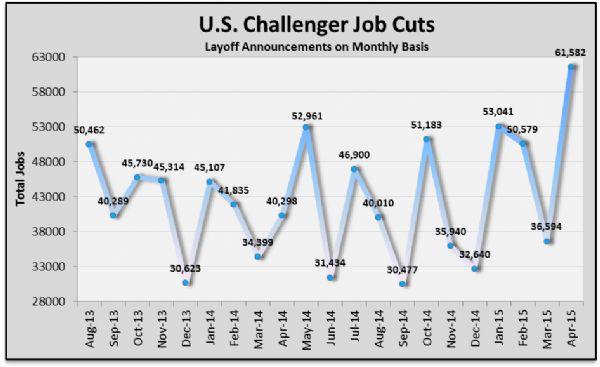 Additionally, Gallup's measurement of overall unemployment slipped again in April with its payroll to population employment rate coming in at 43.9% in April from 44.1% in March. A decline in Gallup's unemployment rate, currently at 6.1% and down 3 tenths from March, is being driven by a slight increase in overall full-time employment, while part-time work remains steady. One notable positive is improvement in the underemployment category, which is down to 14.9% in April from 15.5% in March. Below is Gallup's official chart noting changes in the payroll to population employment rates from 2010.