The markets are off to an iffy start to the session, due largely in part to the continuation of the global bond rout. Early selling dropped bonds around the world to the lowest levels in the last eight months. The selling was paced by weakness in Germany, which caused the 10-year yield to hit a high of 0.995% before falling back down again. This morning, it was noted that the economy's grinding halt in the first quarter ended up pulling down non-farm productivity levels by 3.1% and inflated unit labor costs by 6.7%. These readings are way more severe than the initial data that was released in the prior month, where productivity levels came in around-1.9% and unit labor costs at +5.0%. Overall output fell by 1.6% in the first quarter, as the number of hours worked increased by 1.6%. Adding to overall labor costs was a sharp 3.3% rise in compensation - likely the effect of minimum wage hikes that took place across various municipalities and corporations in the US.
Domestically, the market continues to be antsy in anticipation of Friday's jobs report, but as yesterday's Fed Beige Book implied, the likelihood of a rate hike in the near-term is very slim. Conditions are roughly unchanged over the last two months across most Federal Reserve districts, although optimism remains okay. Housing is definitively making a comeback in all districts, although the notable weakness in Texas due to floods and energy still being weak won't cause the Fed to change course on rates - at least not over the summer months. Nevertheless, the overall outlook for the next six months looks good across all districts.
How did your Fed district fare in April and May?
Federal Reserve Beige Book - June 2015

Atlanta

Boston

Chicago

Cleveland

Steady economic activity in April/May, outlook optimistic expecting strong growth in 2015, auto sales higher, tourism picking up, residential contracts up for new & existing home sales, home inventories down and prices up over last year, commercial real estate improving too, credit demand higher, loan demand growing, wages subdued but labor rates higher

Mixed business data, retailers and manufacturers cite moderate sales increases over last year, software firms less positive, residential and commercial real estate unchanged since last report, product and input prices steady, wages moderately increasing in most industries but hiring plans subdued

Economic activity growth moderate in April/May, spending higher among consumers and businesses, manufacturing moderate, construction and real estate showing slower pace, credit conditions improving, cost pressures little changed, slight increase in wages, low prices for raw materials, crop prices fell, livestock prices increased

Economic expansions slight, manufacturing activity mixed, nonresidential construction strong, pickup in single-family starts, retail sales higher over last year, shale activity leveling out, freight hauling softer, demand for credit higher, payrolls unchanged, upward pressure on wages, input prices steady, price declines in some commodities, building costs higher

New York

Richmond

Kansas City

St. Louis

Expanded at modest pace since last report, selling prices remain mostly stable, upward pressure on input prices and wages, labor market subdued, consumer spending weaker in April but rebounding in May, housing market stronger but office and retail markets mixed, multi-family construction stronger, loan demand higher and delinquency rates lower

Growth at a measured pace, manufacturing and new orders leveled off but outlook is positive, retail sales little changed, revenues stronger at non-retail service firms, tourism picking up, loan demand stronger, residential real estate markets steady, agriculture conditions improved, energy production soft, labor demand up, energy prices flat, hiring steady

Economic activity grew but with mixed conditions across sectors, consumer spending moderately higher, stronger sales activity in transportation, tech contracts higher, loan demand higher but deposits declining, manufacturing lower, weakness in energy persistent, crop conditions improving, prices slightly higher, wages steady, firms planning to increase wages over the next year

Modest growth over April/May, positive activity with retailers and auto dealers, wages grew moderately, employment growth modest, prices unchanged, residential and commercial real estate conditions improving in most of the district, banks showing improvement in lending activity, spring plantings in the southern part of the district stronger thanks to drier weather

Dallas

Minneapolis

Philadelphia

San Francisco

Growth slightly slower over last period, manufacturers noting weaker demand, retail sales weak but auto sales stronger, demand for real estate services solid, loan demand slower, energy sector still declining, rainfall hurting agriculture conditions, price pressure steady, outlook positive

Moderate growth over last period, increases in consumer spending, tourism, commercial construction and professional services, real estate growth brisk, manufacturing and construction flat, labor markets tightening, wage increases mild, overall commodities prices stable

Modest growth, staffing firms show moderate growth, auto sales slightly higher, construction and leasing of commercial real estate stronger, manufacturing slightly higher, transportation lower, existing home sales strongest, tourism solid, wages and home prices stronger

Moderate economic growth in April/May, overall price inflation firmed, age gains up a bit but moderate on balance, retail sales and demand for consumer services moderate, manufacturing mixed but flat, agricultural output expanding, real estate stronger mostly in multifamily, loan demand stronger as well
"Jobs" is the word of the week, and in advance of Friday's jobs report, the two employment-related reports today point to some potentially better data. Firstly, Challenger's monthly job cuts report came in at a total of 41,034 for May versus the multi-year high of 61,582 in April. This time last year, layoffs totaled around 52,961. Nearly all of the job cuts were concentrated in the financial sector, which was reflective of JP Morgan's announcement that it was cutting 5,000 jobs, primarily at its banking branches. In addition, the government sector chopped quite a few jobs as well; Massachusetts announced a cut of 4,500 state employees during the month. Ultimately, Challenger's job cut count is low, but it hasn't been nearly as impressive as the hard data from weekly jobless claims.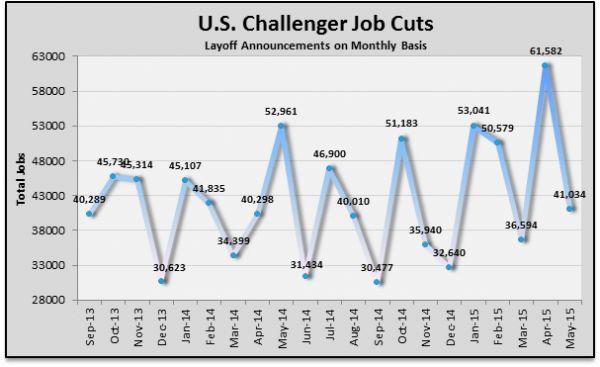 Weekly jobless claims point to more improvements overall, declining by 8,000 from the prior week to 276,000 which is roughly in-line with consensus. The 4-week rolling average for this week's initial claims is up slightly to 274,750 from 271,500 but is running about 5,000 lower than the month-ago comparison. Continuing claims, which lag by one week, are telling the same story, down 30,000 to 2.196 million with the 4-week average down 9,000 to 2.214 million. Additionally, the unemployment rate for insured workers is down by 10 basis points to a very low 1.6%. All of the jobless claims readings are at or near 15-year lows, indicating that the unemployment-side of the labor market is alright for the moment. This is particularly optimistic since there are no special factors influencing this report.