It's a weak rally as investors are still eyeing Europe for any hope a last-minute deal for Greece. The country looks set to default on its €1.5 billion ($1.67 billion) debt payment to the International Monetary Fund (NYSE:IMF) later in the day, and its international bailout (namely from Germany) is due to expire at midnight (or 6:00PM EST). Reports suggest Greece's government is considering a last-minute proposal from European Commission President Jean Claude Juncker; however Greek Prime Minister, Alexis Tsipras, said the offer was a "humiliation." Despite the nonsense, American investors remain hopeful for an eleventh-hour save from…somebody.
Although the economic data released during today's session is fairly positive, it's making investors wary since positive news is far more likely to result in interest rates being hiked well before the end of the year. Firstly, growth in home prices decelerated sharply in April as was noted by the 0.3% gain in the Case-Shiller 20-City Index. This is 5 basis points below consensus and 2 basis points lower than the lowest forecast. However, on a year-over-year basis, home prices increased by 4.9% yet still came up 5 basis points below consensus and 1 basis point below the lowest estimate. Incidentally, for the first time since September 2014, there were declines in home prices among 8 of the 20 cities. Cleveland showed the sharpest declined at -0.5%, followed by Atlanta (-0.4%) and Chicago (-0.4%). Offsetting this were several big increases, with Minneapolis showing a 1.0% monthly gain, followed by Denver (+0.9%), Detroit (+0.9%) and Las Vegas (+0.9%). On a year-over-year basis, the top gaining cities were Denver (+10.3%), San Francisco (+10.0%) and Dallas (+8.8%) while the cities with the slowest gains in home prices were Washington DC (+1.1%), Cleveland (+1.3%) and Boston (+1.8%). Since this reading is from April, it still contains much of the pent-up weakness in home sales from the early part of the year, but as we've seen in May, virtually all housing-related data has drastically improved.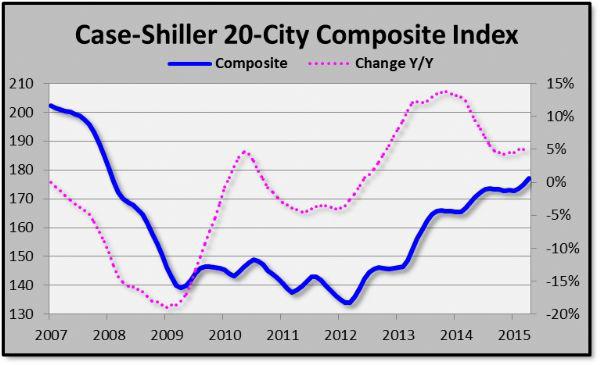 Next, Chicago's sample of the purchasing managers index (PMI) for the Chicago Fed district remains surprisingly subdued with a June reading of 49.4 - notably lower than the 50.6 consensus estimate. June marks the fourth month of the last five months to show a contractionary reading below the 50.0-breakeven level. Additionally, the sample's employment level is the lowest since November 2009 and backlog orders also the lowest since September 2009. We note too that weakness in backlogs is a big negative for future employment growth. Production also mirrors the main index and is in contraction for the fourth time in the last five months. However, despite all this new orders are actually back above the 50-level and into expansionary territory, and those surveyed also believe that new orders will accelerate into the third quarter. More new orders just might be what the Chicago district needs to get back on track with the other Fed districts.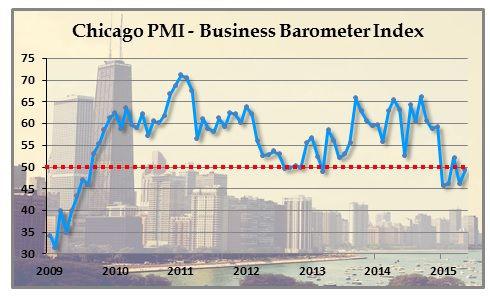 Lastly, reflecting the University of Michigan's reading from June 26th, the Conference Board noted that consumer spirits and expectations are on the rise and near their strongest levels of the recovery. In the month of June, consumer confidence jumped to 101.4 from a downwardly revised 94.6 in May and was well above the 99.0 consensus estimate. The expectations component remains a big standout, jumping by 8.2 points to a reading of 94.6 and reflects significant optimism over the outlook for jobs and income. The status quo is apparently pretty awesome too, with the present situation component up 4.5 points to a reading of 111.6. This reading points to a potential gain in the month-over-month consumer spending between May and June, but more importantly the gain reflects specific strength in the consumer's assessment of the current jobs market. Only 25.7% of those surveyed now say that jobs are hard to get versus 27.2% in May. This report is quite solid through and through, including buying plans for cars and trucks, which should mean another strong month for auto sales in June. The number of potential homebuyers is also steady for the month. On numerous occasions, the Fed has cited consumer confidence readings are strong indicators for overall economic outlook, coupled with low unemployment. This report is a big check in the positive column for the hawks in the Fed and could serve as an argument for a rate hike sooner than expected.