We round out the last trading session before the long holiday weekend on mixed ground. The major equity indices opened substantially higher, only to take a massive plunge by the afternoon session. Greece can once again be blamed for the selloff as the International Monetary Fund (NYSE:IMF) noted that Greece needs either a write-down equal to 30% of its gross domestic product (NYSEMKT:GDP) or maturity extensions on its debt to 40 years from 20 years. Additionally, Greece will need additional financing of over 60 billion euros through 2018, but the IMF does not see this crisis as a systematic threat to the Eurozone. Yeah, we'll see. Back in the homeland, the Bureau of Labor Statistics released the employment situation for the month of June. The unemployment rate dropped to 5.3% in June, after total non-farm payroll employment increased by 223,000 in June with strong job gains in professional and business services, health care, retail trade, financial activities, transportation and warehousing. At the same time though, the labor participation rate dropped to one of the lowest levels since the 1970s.
In the latest reading on initial jobless claims, the week of June 27th showed a rise in claims to 281,000 which is a 10,000 increase over the prior week, but remains at very low levels. The 4-week rolling average inched slightly higher by 1,000 to 254,750 claims, which is a level that is little changed over the prior month. Lagging by a week, continuing claims increased by 15,000 to 2.264 million in the week of June 20th. This caused the 4-week rolling average to increase by 15,000 to 2.253 million, but this reading, like initial claims, is also considered very low. Additionally, the unemployment rate for insured workers is unchanged at 1.7% in another reading that is very low. The best part is that there are no special factors impacting jobless claims this week, which coincides well with the new 5.3% unemployment rate.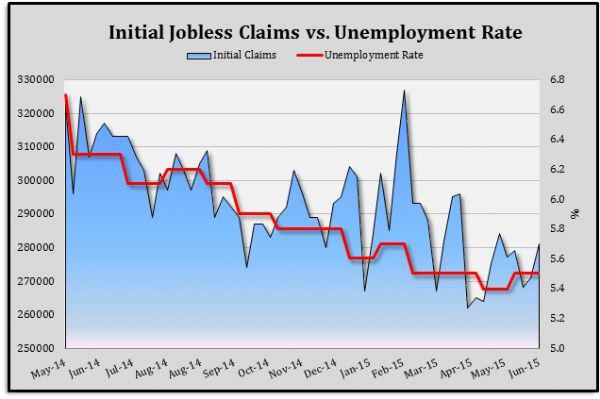 Additionally, the factory sector which has been recently hit by a national decline in exports, is continuing to struggle as factory orders dropped by 1.0% in May. This is far below consensus' expectations for -0.3% and is near the low-end estimate for -1.2%. The durable goods component is now revised lower from the original data last week by -2.2% from -1.8%. Durables in April have also been revised lower to- 1.7% from -1.5% which is another bad sign for manufacturing. Aircraft orders, which are always volatile on a month-to-month basis, are to blame for the weakness in durables, dropping by 49.4% in May. When transportation component is excluded, factory orders were unchanged in the month of May, and isn't much better than the -0.6% drop from April. Both this report and the Bureau of Labor Statistics' jobs data may raise concern among the Fed doves about the alleged second quarter bounce that everyone was hoping for.