The major equity indices are continuing to trade in the red today. The Dow Jones Industrial Average gave up as much as 200 points before bouncing off session lows and trading down -0.51%, while the NASDAQ and S&P 500 fell 0.99% and 0.37%, respectively. All three indices are making a slow crawl to the upside. Over in Brussels, Greek officials met with the Eurozone finance ministers to discuss how to keep Greece from officially collapsing financially. One way would be for Greece to stop demanding 'easier' conditions for a bailout. The creditors are looking to ensure that they are repaid if they provide Greece with another bailout and their demands are aligned with that goal. Even though Greece is over 5,800 miles away, US consumers are growing weary regarding the future of the economy.
According to Gallup, the US Economic Confidence Index for the month of June fell to a low of negative 8 from negative 7 in May. If all Americans surveyed by Gallup believed that the economy was doing extremely well and getting better, than the index would produce a maximum high of +100, however, if all American who responded to the survey felt the total opposite, then the index would be at a low of -100. Therefore, more Americans are becoming more pessimistic regarding the future of the economy. Nevertheless, a reading of -8 is far better than the 2009 low of -58.
We also had a few domestic economic releases this morning that painted different pictures of the current standing of the US economy. Firstly, the Bureau of Economic Analysis (BEA) released the May US International Trade in Goods and Services report. From the report, we learned that the US trade deficit widened to $41.871 billion from $40.700 billion in April. The rise in the deficit was driven by an increase in the goods deficit by $1.2 billion to $61.5 billion and the services surplus increasing by merely $0.1 billion to $19.6 billion. Year-to-date, the US trade deficit has increased by 0.5% (or $1.1 billion) over the same period last year. Both imports and exports are lower due to currency fluctuations. May exports decreased by $1.5 billion to $188.6 billion while imports were down $0.3 billion to $230.5 billion. With the value of the Euro decreasing, we may actually see an increase in imports from overseas during the summer months. However, US made goods will continue to be priced too high for foreign markets.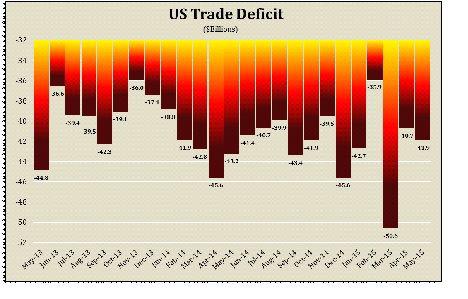 The Bureau of Labor Statistics (BLS) released the second important release this morning, the Job Openings and Labor Turnover Survey (JOLTS) for the Month of May. The report was quite positive when looking at year-over-year changes. The amount of job openings rose by a whopping 16% year-over-year to 5.363 million; on a monthly basis, job openings rose 0.54% from April. New hires rose by 4.05% year-over-year (or fell 0.67% month-over-month) to 5.000 million. Total separations rose by 4.40% year-over-year, but decreased by 3.10% month-over-month to 4.743 million. The separations component is broken down into two categories: quits and layoffs/discharges, with the former more heavily eyed. The quits rate remained 1.9% for the second month in a row. Approximately 2.699 million workers willingly quit their jobs (+8.21% year-over-year). A rise in quits typically indicates that workers are confident in their abilities to find new (and better) opportunities in the current economy.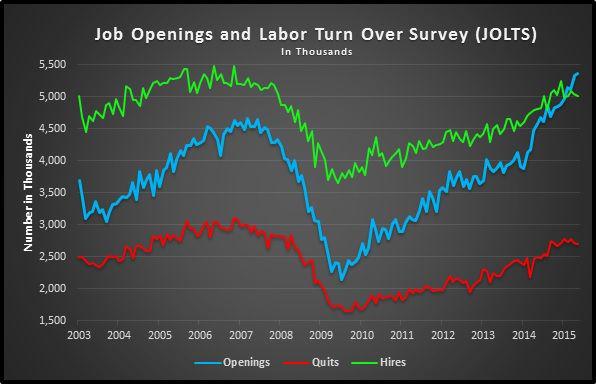 Many of the most recent consumer confidence reports have been pointing to improving consumer sentiment over the past few months. While current events are seeming to have a negative influence on consumer attitudes, we will see if higher consumer confidence finally translates into higher consumer spending later this afternoon. The Federal Reserve is scheduled to release its Consumer Credit report at 3:00 PM EST.