The major equity indices have found their voices and are continuing to rally during today's session. The Dow Jones Industrial Average has managed to cross back above the 18000 level and the S&P 500 and NASDAQ are sporting gains of 0.37% and 0.70%, respectively. This morning, Corporate America delivered on the bottom line, with a majority of the companies coming in-line or beating estimates. Revenues, on the other hand, were all over the place. Nevertheless, some major merger acquisitions news helped positively influence the market.
Micron (NASDAQ:MU) received an unsolicited bid by major Chinese chipmaker, Tsinghua Unigroup. Tsinghua Unigroup has offered to purchase MU with a premium of 19.3%, or $21 per share. If MU accepts the deal, this would be the largest transaction in which a foreign company acquired a US company to date. Next, NetScout Systems (NASDAQ:NTCT) acquired the communications business of Danaher Corp. (NYSE:DHR) for $2.3 billion. The tech space is booming and we may be seeing more consolidation within the space down the road as companies work to lead the changes in the Internet of Things (IOT) market.
There were a few domestic data releases this morning from the Census Bureau. Firstly, retail figures are out for the month of June. While sales are up year-to-date, it is very clear that growth is decelerating on a monthly basis (see chart below). During June, retail sales fell 0.3% month-over-month to approximately $442.0 billion after gaining a downwardly revised 1.0% (from 1.2%) in May. When consumers are spending, it appears they favor food services and drinking places. Sales for that industry rose 7.7% year-over-year. Gas stations, on the other hand, saw sales decline 17.1% from last year. This may be a bigger reflection on the price of retail gasoline decreasing than the actual amount of gasoline consumed. Retail sales excluding auto sales were not that great of an improvement; it declined 0.1% which was far lower than the street's call for a 0.6% gain.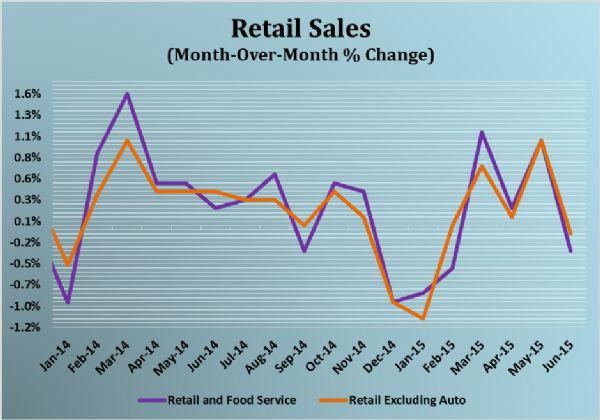 The Census Bureau's second report, Business Inventories, painted a slightly different picture for sales. During the month of May, total sales were $1.323 trillion, up 0.4% month over month. Manufacturers' and trade inventories rose 0.3% month-over-month to $1.797 trillion. Merchant wholesalers saw the largest gain in inventories, +0.84 month-over-month to $581.8 billion. The sales-to-inventories ratio held steady at 1.36. Mounting inventories are a negative sign for the economy as supply may soon outpace demand. In the event that that oocrurs, we would see more layoffs among goods-producing firms.