The first half of the trading session has been rather volatile with Federal Chairwoman Janet Yellen answering questions from congress members this morning. The NASDAQ was the only index that was able to open in the green as the S&P 500 and Dow Industrial Average declined right before the open. All three major equity indices have reversed from session highs and are straddling yesterday's closing prices. We had several domestic economic data releases this morning which are weighing on the market.
The Mortgage Bankers' Association (MBA) disappointed observers with its weekly report. The strong growth seen in the housing market last week was essentially negated. The purchasing component fell by 8% in the week ended July 10th after gaining 7% in the prior week. With mortgage interest rate for 30-year mortgages with balances of 417,000 or less remaining the same at 4.23%, the refinancing component improved, +4.0% following a +3.0 gain the prior week, as more homeowners moved to refinance their properties. Overall, the composite index fell 1.9% after gaining 4.6% in the prior week. Weekly results have always been volatile, but so far for the month of July, purchases are on the decline. This is not a positive sign for housing.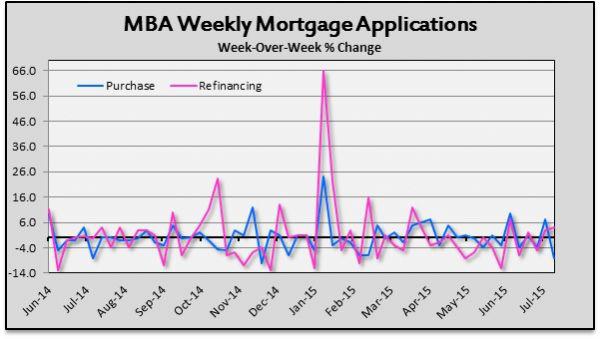 The New York Fed District released its monthly reading on the manufacturing sector, the Empire State Manufacturing Index, for July. Manufacturers saw business operations improve in the district, with the index rising approximately 6 points to 3.9. However, activity is quite quiet. Two indexes remain in the negative column, new orders (-3.5) and inventories (-8.51). Shipments fell to 7.88 in July from 12.01 the prior month. The negative changes in the three indexes indicate that manufacturers are slowing production to keep inventories down until sales pick up. Employment is also lower, falling to 3.19 in July from 8.65 the prior month. With the New York Fed District being a strong indicator for the broader US manufacturing market, we may be seeing a disappointing employment report at the end of the month.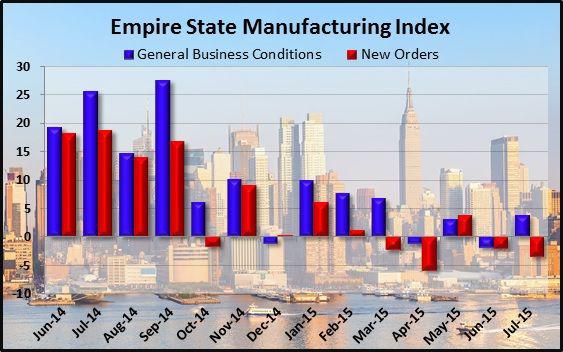 The Federal Reserve's industrial production and capacity utilization report for the month of June reiterated the notion that the manufacturing sector is continuing to struggle nationwide. Manufacturing was unchanged for the month, but did grow 1.4% year-over-year in Q2-2015. Nondurable goods saw output increase very slightly, driven by chemicals and products rising 0.7%. The durable goods component was mostly unchanged as the output of automotive products declined by 3.8% and indexes for computer technology and furniture rose significantly.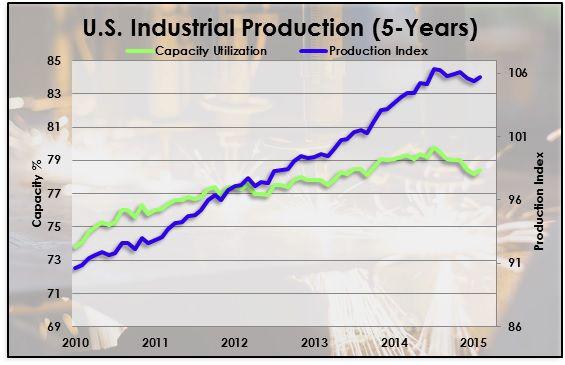 The capacity utilization rate for manufacturing industry fell slightly to 72.81%. However, the overall capacity utilization rate rose to 78.4%, topping consensus at 78.2%. This was driven by mining and utilities. The mining index rose 1% while the utilities index rose 1.5%.