After a triumphant morning, where it opened in the green and moved significantly higher, the NASDAQ loss steam and by a quarter to noon, was trading in the red with the Dow Jones Industrial Average and S&P 500. Crude oil futures failed to hold above the $50-level and trended down to $48.91 per barrel during today's session, adding more pressure to the energy market. While the major equities may be trading at session lows, they are showing signs of trying to rebound. We had a few encouraging economic releases this morning.
For the week ended July 18th, the Department of Labor (NYSEARCA:DOL) reported that initial jobless claims decrease by 26,000 to 255,000. 255,000 is the lowest level for claims in 42 years. The four week moving average decreased by 4,000 to 278,500. Continuing claims also fell. For the week ended July 11th, continue claims were down 9,000 to 2.207 million. The four-week average for continuing claims decreased by 10,000 to 2.254 million. These figures are really impressive, especially as there were not any special events influencing the initial claims estimate. With initial claims falling 15,000 two weeks ago and then by 26,000 last week, we may be looking at a pleasant surprise in July's employment situation report.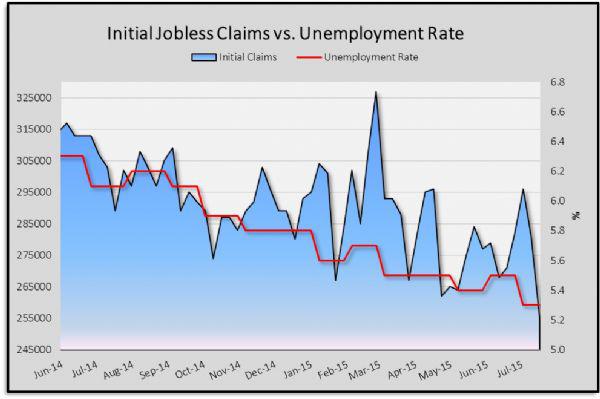 The Chicago Fed District released its National Activity Index (CFNAI) for the month of June. Economic activity improved by 0.08 points after deteriorating by 0.08% (revised from -0.17) in May. From June 2014, the index actually rose 0.29 points. The chart below indicates that the index is rather volatile, but significantly better than this time six years ago. The economy's growth almost mirrors the historical trend. During the month production related indicators improved, rising to -0.02 from 0.08 in May. Employment is doing very well, as the employment indicators doubled to 0.12 from 0.6. Housing related indicators were also positive with housing starts and permits in the region rising from May levels. One of the main negative components of the report was personal consumption. With low consumer spending and consumer sentiment slowly beginning to tread south, the combined personal consumption and housing related indicator index fell to -0.07 from -0.05 in May.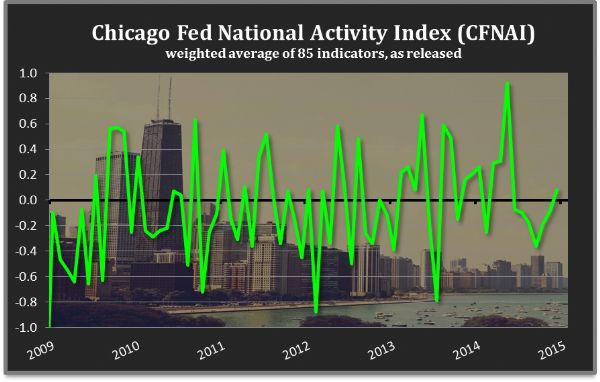 Lastly, the Conference Board released its Leading Economic Indicators (LEI) report. The LEI is comprised of the top ten indicators associated with helping predict where the economy is headed. Some items included are average weekly hours performed in the manufacturing industry, weekly jobless claims, the Institute of Supply Management's (ISM) new orders index, building permits etc. For the month of June, the LEI advanced 0.6%. This is slightly slower than the May increase of 0.8%, however still embodies an overall improving economy (much like the CFNAI) that should continue through the second half of the year.