It has been quite a volatile morning. The NASDAQ opened higher, but struggled for most of the morning session to remain in the green. The three major indices are trading at session lows, however the S&P 500 appears to be attempting to move even lower. One company echoing the market's volatility is Skyworks Solutions (NASDAQ:SWKS). The company delivered on both top and bottom lines, seeing revenues rise by 38% year-over-year and earnings come in five cents higher than consensus. It even issued upside revenue and EPS guidance and received a series of price target increases and rating upgrades. After gapping higher yesterday and this morning, the stock quickly turned red and is now trading slightly above session lows.
Overseas, we received preliminary readings for manufacturing in China and Germany from Markit. China's purchasing managers' index (PMI) decreased to 48.2 in July from a prior reading of 49.4 in June. This raises more fears around China's economy suffering from contractions in the manufacturing sector. Germany's PMI fell to a reading of 53.4 from an earlier reading of 53.7. While the index remains above the neutral 50-level (below 50 indicates contractions and above 50 indicates expansion), the report indicates a deceleration in the growth in Germany's manufacturing sector. Ultimately, the reports led to weakness in the overseas markets.
Markit also released a preliminary PMI report for the United States. We prefer the Institute of Supply Management's (ISM) monthly report, however Markit's surveys provide a glimpse in the direction manufacturing may be going. For the flash July reading, Markit reported a PMI of 53.8 which is slightly higher than the consensus estimate by one tenth and the June flash reading of 53.4. However, the reading is lower than the July final reading of 54. Similar to Germany, the report indicates that growth is slowing in the US manufacturing industry. Nevertheless, we are seeing modest increases in orders and output, plus export orders rose for the first time since February.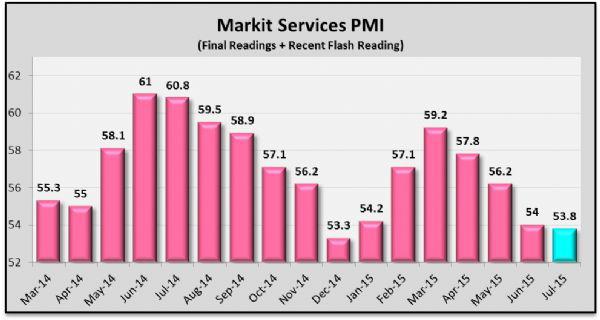 The Census Bureau released a disappointing report on new home sales for the month of June. The seasonally adjusted annual rate (SAAR) for sales of new single-family houses fell by 6.8% month-over-month to 482,000. May figures were revised lower to 517,000 from 546,000. Approximately 45,000 homes were sold in June. Thirty-eight percent of those homes sold between the $200,000-299,999 price range. So far this year, June has the lowest SAAR for new home sales. The month's lower sales may result in a lower than anticipated gross domestic product (NYSEMKT:GDP) growth. However, the supply of new homes rose by 3.4% month-over-month to 215,000 which may result in higher sales for the rest of the summer.