Today marks the fifth consecutive session of the major equity indices trading in the red. The Dow Jones Industrial Average is a long way from its 52-week highs of 18,351, currently trading below 17,500. The NASDAQ is down almost 0.90% and the S&P 500 is down nearly 0.55%. Overseas, the major stock markets in Europe also closed significantly lower with Italy's MIB Index declining the most (-3%) followed by Germany, Ireland, and France each observing their indices close down 2.6%. China, which has been assigned most of the blame for our down market, saw its Shanghai Composite close down 8.48%. Foreign investors have been exiting shares of Chinese companies with great haste; since July 6th, they sold $7.6 billion worth of shares through the Hong Kong exchange. When looking at domestic data, the United States actually has a bit to celebrate.
Earlier this morning, the Census Bureau released its durable goods report for the month of June. The amount of total new orders is on the rise. Month-over-month, new orders rose by 3.4%, surpassing the consensus estimate of 3.1%. May's new order estimate was revised lower to -2.1% from -1.8%, making June's come back even more impressive. When excluding transportation goods, new orders rose by 0.8% month-over-month following a downwardly revised -0.1% (from +0.5%) in May. We mostly care about non-defense capital goods excluding aircraft. This category is better referred to as business spending. During the month of June, business spending rose by 0.9% month over month after being on the decline in April and May.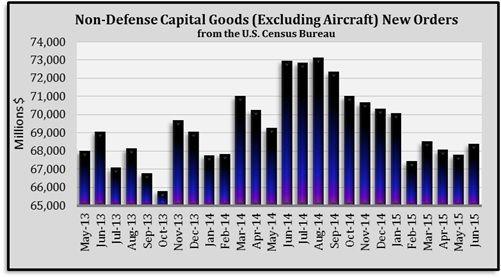 The Dallas Fed District released its manufacturing survey for the month of July. Dallas' general activity index improved slightly, coming in at -4.6 after rising to a revised -7.0 (from-7.6) in June and -20.8 in May. General production improved, as well, increasing to -1.9 from a reading of -6.5 in the prior month. Also, for the month of July, the Dallas Fed District saw new orders jump out of negative territory to a reading of 0.7%. While a majority of the indexes remain in negative territory, the pace at which manufacturing in the region is contracting is slowing. Businesses in the area are optimistic that the district may soon see greater improvement in its manufacturing space.