It may be a new month, but the major equity indices seem intent on continuing to trade lower. The Dow Jones Industrial average has given up over 175 points and is hovering around 17510. The S&P 500 and the NASDAQ both managed to trade in the positives a couple of times during the morning session, yet are now indicating down 0.71% and 0.77% respectively. This morning's report on personal income and outlays from the Bureau of Economic Analysis demonstrated how falling consumer sentiment is affecting spending habits. With income rising 0.4% to $68.1 billion during the month of June, savings (as a percentage of disposable income) rose increased to 4.8% from 4.6% in May. Consumers tightened their wallets as spending growth rose 0.2% in June versus 0.7% in May. On a monthly basis, construction spending was rather similar.
The Census Bureau released its monthly construction spending report for June this morning. Total spending rose to an estimated seasonally adjusted annual rate of $1,064.6 billion which is 0.1% higher than May. However, from June 2014, total construction spending has increased by 12%. Private residential construction spending rose by 12.8%, driven by stronger demand for new multi-family homes (+23.7%). Private nonresidential spending rose by 14.6% year-over-year. There was weakness in the industrial sector as construction for utility companies decreased by 16.3% over last year. However, businesses in the amusement and recreation industry upped spending by 48.2%...perhaps they're getting ready for when consumers become more optimistic and comfortable to start spending again. Higher construction spending bodes well for the broader manufacturing industry.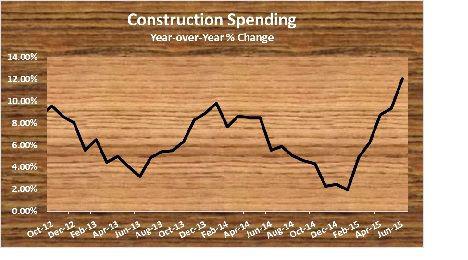 The US economy is continuing to see growth in its manufacturing sector. In fact, the month of July marked the 74th consecutive month in which the overall economy expanded, according to the Institute for Supply Management (ISM). In its July manufacturing purchasing managers' index (PMI) report, ISM reported a PMI of 52.7, down from a final reading of 53.6 in June. Though the July figure came in lower, it is still above the 50-level where a reading above 50 means that the economy is growing versus a reading below 50 where the economy is contracting.