It's going to take something spectacular to lift the major equity indices out of today's rut. At its lowest points in the session, the Dow Jones Industrial gave up over 154 points, the NASDAQ gave up over 99 points, and the S&P 500 gave up over 22 points. Consumer sentiment is continuing to fade; the Bloomberg Consumer Comfort Index decreased by 20 basis points to a reading of 40.3 in the week ended August 2nd. Today's job reports gave us a better understanding of why spirits are so low.
Firstly, the month of July saw the largest monthly amount of layoffs in over three and a half years. Challenger, Gray & Christmas, Inc. indicated in its Challenger Job-Cut report that 105,696 layoffs took place in July. The month of June saw 44,842 job cuts. The highest monthly amount of job cuts this year was 61,582. We have the government to blame for the high number; over 50% of the job cuts are a result of the government trimming the military. Last time job cuts came in over 100,000 (specifically 115,730 in September 2011), the US Army had cut 50,000 workers. The technology sector was also a major contributor to layoffs in July with 18,891 workers being let go from computer and electronics firms. The energy sector which has been under pressure thanks to low commodity prices let go of 9,050 workers. July's reading is an outlier, when excluding government cuts, we're looking more at approximately 48,165+ layoffs.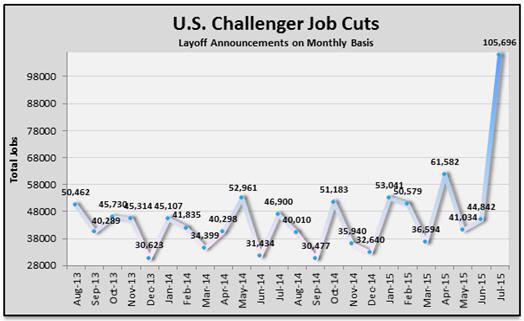 For the week ended August 1st, initial jobless claims are up. The Department of Labor (NYSEARCA:DOL) reported that 270,000 unemployment benefits claims were filed during the week. This is up 3,000 from the prior week's 267,000 claims. However, the 4-week moving average fell for the third consecutive week, this time by 6,500 to 268,250. Continuing claims, which were reported for the week ended July 25th, fell by 14,000 to 2.255 million. The 4-week average for continuing claims is also down, falling 18,000 to 2.239 million. Tomorrow the Bureau of Labor Statistics (BLS) will be releasing its July Employment situation report. Considering low consumer confidence, payrolls growing at a very slow pace, and the ADP report yesterday estimating 185,000 payroll additions, we may see an increase in the amount of discouraged workers and participants exiting the workforce. A lower unemployment rate won't be good news.