For all the blame we're heaping on China, could its recent economic woes be more about the global economy than their miracle run of ghost cities and high-speed rail networks coming to an inevitable conclusion? I saw this chart yesterday; data compiled from the International Monetary Fund (NYSE:IMF) by US Trust (posted in Business Insider). It shows just how much of a proxy China has become for the global economy. The chart shows the nation's top exporting partner over the past fifteen years.
China was only the top destination for goods for five other nations back in 2000. Now, it's 43 nations, surpassing the U.S., which is a top export for only 31 other countries; sobering stuff that speaks to lost influences and prestige as the straw that stirs the global economic drink.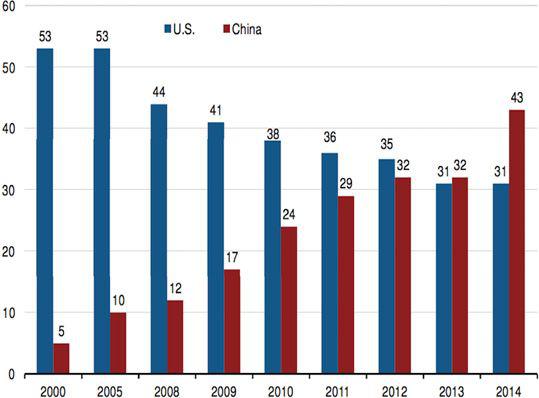 Yesterday, we saw Brazil and Canada officially enter into recessions, and it is clear that other large economies from Italy to Russia are in trouble. Still, there was an announcement of a $15 billion high- speed rail project between Russia and China, underscoring their very cozy relationship of late. China might be in trouble, but they are clearly throwing around its economic and political might…clearly, America is not.
However, as America has lost its economic and military clout around the world, our domestic economy has held onto a tenuous recovery and is riding the DNA of the nation that once put the entire planet on its back. Now, the question is whether America can even play Atlas for just one nation- our own. It's interesting that the Dow Jones Industrial Average was slammed by 2.8%, while China was off less than half that amount- both supposedly were driven lower from disappointing news out of China.
The big jobs report is on Friday; today, we'll get the latest update from ADP. Let's face it, 200,000 monthly jobs are simply too little, considering the massive amount of jobs that were lost and the current size of the U.S. population. Moreover, where are the pay raises? There are a lot of things the Federal Reserve is getting wrong with their interpretation of inflation. However, they're spot-on if classic inflation is too much money; chasing too fewer goods, then we are dealing with deflation.
There are bright spots beyond a mediocre job growth and slumping wages. Yesterday saw the latest on autos and construction. The numbers were impressive, beating consensus. I am not sure about the sustainability of autos and fret over the quality of loans, but it does show the consumer's appetite which is essential for a healthier economy.
White Picket Fence and Car in Driveway
Lost in yesterday's data was a strong report on construction and auto sales that beat consensus and points to a healthy appetite for new cars.
Construction
Residential spending in July: $380.8 billion, +1.1% month-over-month, or +15.6% year-to-year
Non-Residential spending in July: $406.9 billion, +1.5% month-over-month, or +18.2% year-to-year
Non-Residential
Highlights

Total

Change
m/m

Change
y/y

Office

$49.0

-1.1%

+41.2%

Commercial

$62.9

+0.5%

+29.4%

Amusement

$11.8

+1.7%

+59.7%

Manufacturing

$93.4

+4.7%

+73.1%
Construction is a sweet spot in the economy that should remain strong for some time, both in residential and non-residential.
Auto Sales
The experts were looking for declines across the board; instead, July was a great month for auto sales. Total sales came in at an annual run rate of 17.8 million, well above the 17.3 consensus estimate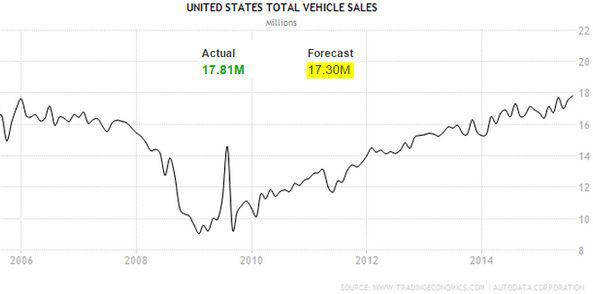 The news was great for American automakers, led by SUVs and pick-up trucks. The F series is coming on strong after a radical reboot, but it is in danger of being supplanted by the Silverado and Sierra line at GM. In addition to concerns about the quality of loans, the length of loans feels problmatic.
US Auto Sales
August

Change

Ford

+5.0%

GM

-0.7%

Fiat

+1.7%

Hyundai

+3.0%

Kia

+7.7%

Audi

+9.9%

Honda

-6.9%

Toyota

-8.8%

Nissan

-0.85
The bright spots continue to be blotted out by bad news and tough sledding for the stock market. In just two days, the picture becomes clearer. I am hoping that it gives the Fed ammo to hike rates and begin to move out of the way.
Today's Session
I realize the Fed has a dashboard of things that help determine their next move, but I hope the largest feature is not just jobs, but also wages. On that score, this morning's news has to be disappointing.
ADP saw only 190,000 jobs against consensus of 200,000; the total significantly lower than last year's surge.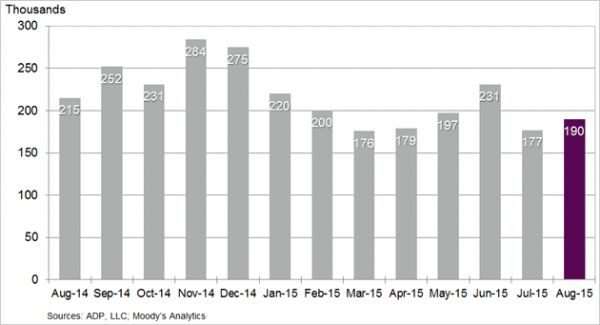 But I think the more problematic issue for the Fed (and disaster for Main Street) is wages going in the wrong direction. Yes the productivity miracle is reborn, but it's just a euphemism for lower wages.
| | |
| --- | --- |
| 2Q15 Productivity Components | Q/Q - Change |
| Output | +4.7% |
| Hours Worked | +1.4% |
| Labor Cost | -1.4% |
| Real Hourly Wages | -1.1% |
The Fed can't hike rates unless the employment number on Friday shows a lot more jobs and much higher wages- period. I like that the market is opening higher, but wouldn't force the issue at the start of trading.