By Dominique Paul, Research Analyst
Commodities are down. The price of crude oil has faded below $44 per barrel following the Energy Information Administration's (NYSEMKT:EIA) weekly petroleum status report release this morning. The US saw a build of 4.7 million barrels to 455.5 million barrels in the week ended August 28th. This loosely translates to higher supply, lower prices. Gold futures are also down, moving to $1,135 per ounce. In fact, most hedges are down during today's session, and one look at the markets will tell you why. The major equity indices began the session gapping up, and have continued to demonstrate strength for most of the session. Albeit, it did pullback briefly moments after the release of the Factor Orders report from the Census Bureau. The Dow Jones Industrial average has recovered nearly 180 points while the NASDAQ sports a gain of 1.45% and the S&P 500 sports a gain of 1.15%.
ADP released a disappointing figure for the month of August as it reported that 190,000 jobs were added to payroll. A bulk of the jobs (91%) came from the services sector. Small businesses added 85,000 of the jobs to the economy during the month. Manufacturing added 7,000 jobs which is significantly higher than the 1,000 gain observed in July. Construction jobs also improved, with 17,000 additions during the month following a 15,000 gain in July. Professional/business service industry added the most jobs, +29,000, followed by the trade/transportation/utilities industry adding 28,000 jobs.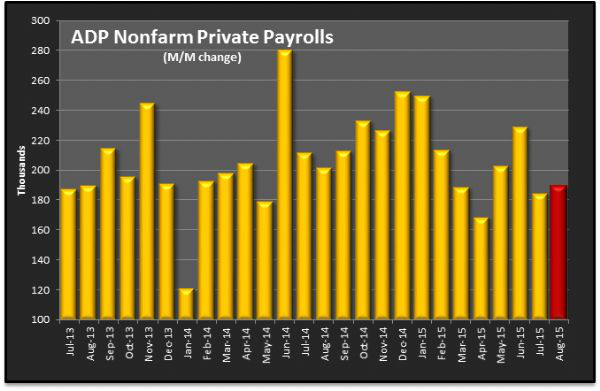 The Bureau of Labor Statistics released a revised productivity and labor cost report for Q2-2015. During the quarter, productivity actually increased by 3.3% sequentially compared to an initial estimate of +1.3%. Within the manufacturing sector, labor productivity rose by 2.3% and output rose by 1.3%. With the amount of hours worked decreasing by 0.9%, this shows that businesses have been finding ways to make their production processes more efficient. Unit labor cost fell by 1.4% during the quarter; initially, it was estimated that unit labor cost had increased by 0.5%. Within the manufacturing sector, unit labor cost had fallen by 2.2%. Looking to the future, with low GDP estimates, we may see a deceleration of growth in productivity during Q3-2015.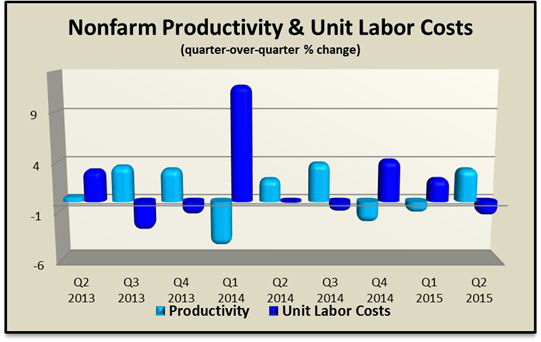 The Census Bureau released its monthly Factory Orders report for July. Month-over-month, new orders of factory goods rose by 0.4%. This is significanly lower than the upwardly revised 2.2% gain (from 1.8%) observed during the month of June. When excluding transportation, new orders actually fell by 0.6% in July, negating the 0.6% gain from june. Shipments fell for the third time in the past four months, down 0.2%. Unfilled orders also increased slightly and inventories decreased.