Question of the Week
Considering America's policy created an unstable Libya, helped destabilize Syria, as well as embolden and miss the rise of ISIS, what role should we play in the migrant crisis?
Take Them In
Ignore Them
Ask Regional Allies to do More
President Obama chose Labor Day as a backdrop for yet another executive order. This time, he made it official that government contractors must provide paid sick leave for all workers. The administration will also push ahead the so-called Healthy Family Act to receive the same benefit to 44 million additional working Americans.
Perhaps this sounds good and even caring on paper, but it's another example of government meddling that has already erased all the norms of the business cycle and post-recession recoveries. Forcing businesses with more than 15 employees to give paid sick leave benefits would crush so many small businesses. However, this administration believes business is there to be the honey pot of workers.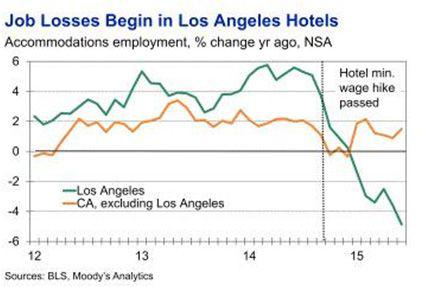 It's the same notion that's ushered in a higher minimum wage around the nation. There are mounds of evidence that it's backfiring.
Seattle saw its biggest hit to employment among restaurant workers since 2009, and Los Angeles hotel workers are dropping like flies.
A higher minimum wage, Obamacare work definitions, and now paid sick leave are going to leave a scorched earth swathing through the lower end of the jobs market. Last month, the number of Americans who work part-time due to the economy surged from 158,000 to nearly 6.2 million.
Happy belated Labor Day!
The Market
Even though the market was down on Friday from yet another disappointing session, the Dow now appears to be putting in serious support north of 16,000. If it fails, we have to consider the serious possibility of the index retesting 15,666.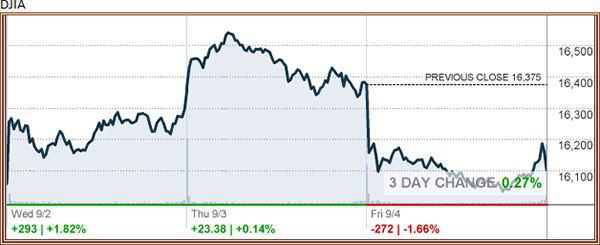 Today's Session
The biggest development in the world is part economic, but also part political, and certainly an issue nobody can ignore. I'm talking about the migrant crisis in Europe, which has been a powder keg for some time, but entered our conscience with the image of the dead three year old boy on a beach in Turkey. His family was fleeing Kobani to seek a new life in Europe.
The market will begin with a big pop at the start in part to speculation that China will pump a lot of money into its economy after the poor data released overnight.
Exports -13.8%
Imports -5.5%
I've been around for a while and the market is often up the first session after Labor Day as all the big boys are back and ready to go. This time, they're back and itching to make up for lost ground as the Pharaohs of Wall Street have taken it on the chin pretty good.
I don't like chasing the first bounce, but Target (NYSE:TGT) is a screaming Buy for those not long or those with higher cost.