Crius Energy Trust --- CRIUF (US), KWH-UN.TO
Mkt cap: $43.64mln
52 week hi/low: 6.22/3.00
Current price as/of 11/14/2014 2:09 pm: 5.47
Yield: 12.9%
Crius IPO'ed in Nov 2012 and puked out of the gate as they were plagued with poor qtrly performance based on extreme weather conditions and poor hedging. It was a small-cap PM nightmare as the deal came at $10 and barely whiffed that level before breaking to the low $7's.
You actually want me to touch this thing?!?!
Fast forward 2 years and CEO Michael Fallquist has matured into a seasoned-vet as Crius has adjusted to market conditions on both the hedging side as well as in the retail energy provider market.
Q3 Highlights:
* 24.5% gross margins
* $15.2mln in Adjusted EBITDA, a 44.8% increase over $10.5mln
* 49% payout ration, compared to 102% in Q3 2013 and 67.5% in Q2 2014
* Solar energy rev up 18% qoq, Adjusted EBITDA up 55%
* Total cash and cash available increased, potential for accretive acquisitions
Back to Reality
Crius is highly levered to weather, as previous qtrly misses have reflected. Customer churn is high and the dividend was cut once already. Management has addressed the weather with more active hedging and locking consumers into longer term deals (only $50 to break) and both those have significantly helped. Churn is an industry constant here and has to be accepted to get comfy with the name. Dividend at this level is safe as long as gross margins remain north of 22% average.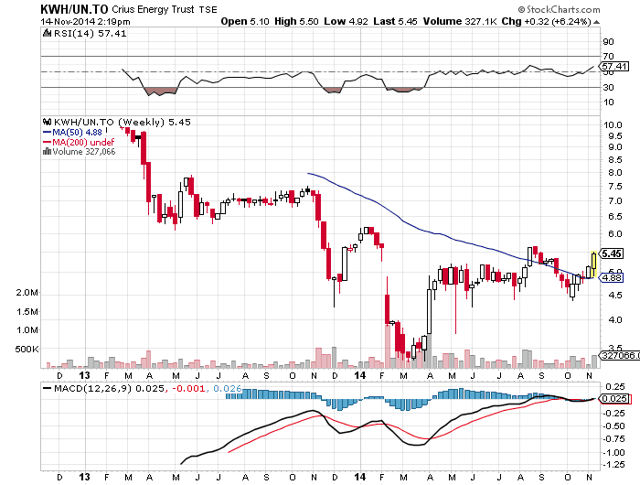 Proverbial Low Hanging Fruit
At the current valuation, the company needs to execute on a consistent basis and the stock will continue to work. Crius Energy does not have to over-perform to get the stock moving. Two more quarters of just solid metrics will bring small cap managers back to the party, if not sooner. One year price target of 7.20 based on seasoned management team, longer term contracts, better hedging, and solar growth.
For the traders out there, looking at the chart, the preferred entry point is indeed closer to the 50 d mva, ~$5ish range.
Disclosure: The author has no positions in any stocks mentioned, and no plans to initiate any positions within the next 72 hours.
The author wrote this article themselves, and it expresses their own opinions. The author is not receiving compensation for it (other than from Seeking Alpha). The author has no business relationship with any company whose stock is mentioned in this article.
Additional disclosure: The author is long CRIUF.